This week on The New Canon, we sample new recordings of works by Missy Mazzoli, Paul Corely and Benjamin Broening.
Song from the Uproar: The Lives and Deaths of Isabelle Eberhardt, our current album of the week, is the first opera by Brooklyn-based composer Missy Mazzoli. Performed by NOW Ensemble and mezzo Abigail Fischer, the music straddles the worlds of ambient and classical music to chart the life of 19th-Century explorer Isabelle Eberhardt, making for a cycle that reviewer Daniel Stephen Johnson describes as rocking "in the gentle, queasy motion of an ocean liner." Read the complete review and stream the full album here. 
On Eighth Blackbird's "Trembling Air," the Grammy-winning ensemble takes on seven works by Virginia-based composer Benjamin Broening. Employing extended techniques such as bowed cymbals and sul ponticello bowing, the acoustic sextet is colored with hazy electronics for a set of texturally-driven music that in some cases reflects changing processes of the natural world and in others acts as a response to older musical forms and compositions. Nocturne Doubles and Arioso Doubles, for example, use late 17th century variation techniques as a launching point for exploration in texture and acoustic/electronic interplay while Like dreams, statistics are a form of wish fulfillment responds to Debussy's Prelude to the Afternoon of a Faun.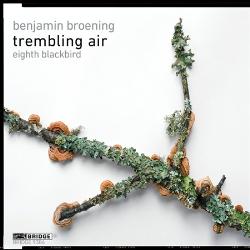 "Disquiet," the debut album by electroacoustic composer and sound recordist Paul Corely similarly exists in the bleary-eyed world of recollection while drawing on both real and imagined landscapes as sources of inspiration. Glitchy electronics revolve around heavily processed guitar figures; deft piano chords underpin spacious landscapes of found sounds to conjure images of a haunted, vacant world.