Musical Americana
Sunday, November 11, 2012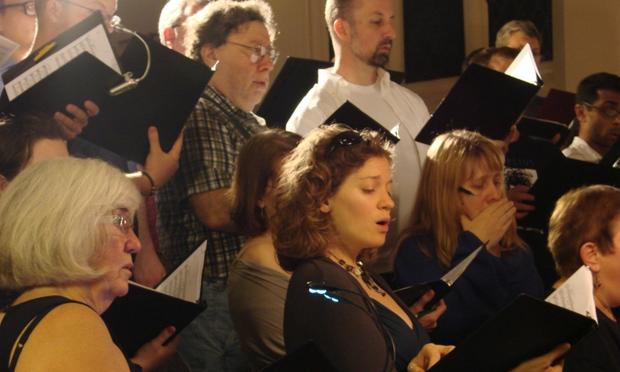 On this edition of The Choral Mix, American Democracy shapes the playlist. Traditional early American tunes, reflections on shape-note singing culture and a contemporary musical compositions honoring the tenth anniversary of 9/11 frame this episode.
Alice Parker, Nancy Wertsch and Elizabeth C. Patterson have made substantial marks on choral music. Spread between the three of them, two are composers and two are conductors, yet all are educators and scholars of American musical history.
One of the veterans of the American choral tradition, Parker worked with the great Robert Shaw. Together, they made arrangements that can he found in almost every high school, college and church choir library in this country. We feature a selection of four early American traditional tunes sung by Parker's own ensemble, the Musicians of Melodious Accord.
Patterson explores the early American music scene, too. A few years back she collaborated with the fiddle player Mark O'Connor and together created a unique album centered around traditional tunes. From that album, we play three examples of their Appalachian sketches.
New York City composer and singer Wertsch helps to move the playlist from early American music to the contemporary idiom. We play her composition ...With Peace In Mind. Created as a melting pot, the work is a setting of prayers from the world's major faiths. It was commissioned for the New York Virtuoso Singers in commemoration of the tenth anniversary of September 11. Harold Rosenbaum leads the New York Virtuoso Singers on this MSR Classics label CD.
Playlist:
Alice Parker/ Sweet Manna/ Alice Parker and the Musicians of Melodious Accord
Track 14 Through Every Age, Eternal God 2:26
Track 15 Return, O God of Love, Return 2:07
Track 16 My God! The Spring of All My Joys 2:00
Track 17 Brethren, We Have Met To Worship 2:31
Traditional Arrangement/ Appalachian Sketches/ Gloriae Dei Cantoris, Mark O'Conner, Elizabeth C. Patterson
Track 1. Hark, I Hear the Harps Eternal 2.22
Track 8. Eight American Mountain Hymns: Tender Thought 2.40
Track 18. Eight American Mountain Hymns: Foundation 2.36
Wertsch/ "...With Peace In Mind"/ The New York Virtuoso Singers, Harold Rosenbaum
Tracks 1-6 "...With Peace In Mind" 19.02
Tracks 18-19 A Tennyson Tapestry -- O Swallow & The Kraken
John Newton/Our American Journey/Chanticleer
Track 4 Jefferson 2.54
Billings/Our American Journey/Chanticleer
Track 5 David's Lamentation 2.18
The Southern Harmony/ Wondrous Love/ Choir of St. Ignatius Loyola, Kent Tritle
Track 1 Wondrous Love 1:30
The WQXR e-newsletter. Show highlights, links to music news, on-demand concerts, events from The Greene Space and more.