Beethoven String Quartet Marathon: The Complete Video Archive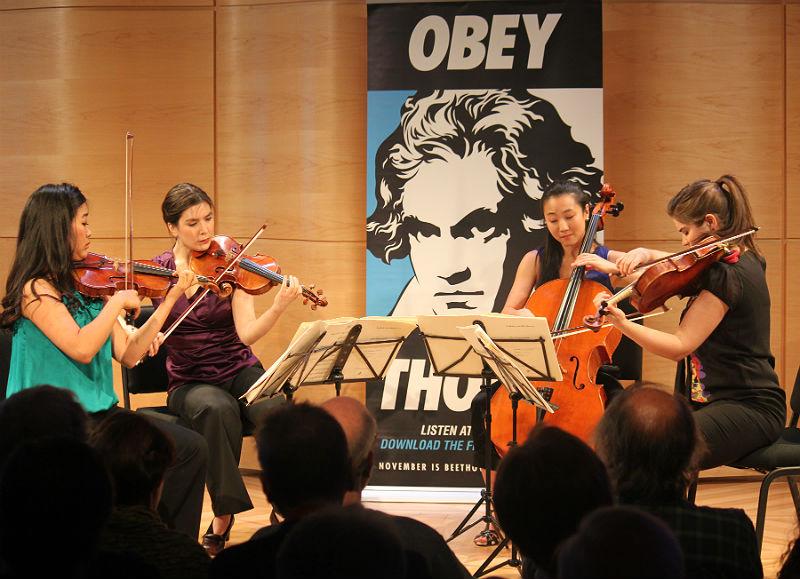 WQXR's Beethoven String Quartet Marathon took place in The Greene Space on Sunday, Nov. 18. It features a lineup of chamber groups that includes young upstarts as well as veteran ensembles.
We have posted all 16 performances from the marathon below. The videos are presented in two hour blocks just as the program is performed. Discuss your favorite moments in the comments box below. All sixteen individual performances are also available on WQXR's YouTube channel.
Program One
Afiara String Quartet - Quartet No. 1 in F Major,  Op. 18, No. 1
Amphion String Quartet - Quartet No. 11 in F minor,  Op. 95
Attacca Quartet - Quartet No. 2 in G Major,  Op. 18, No. 2
Afiara String Quartet - Quartet No. 14 in C-sharp minor,  Op. 131
Program Two
Ying Quartet - Quartet No. 4 in C minor,  Op. 18, No. 4
American String Quartet - Quartet No. 7 in F Major,  Op. 59, No. 1
Ying Quartet - Quartet No. 15 in A minor,  Op. 132
Program Three
Parker Quartet - Quartet No. 3 in D Major,  Op. 18, No. 3
Alumni of Perlman Music Program - Quartet No. 10 in E-flat Major,  Op. 74
American String Quartet - Quartet No. 13 in B-flat Major,  Op. 130 (with Grosse Fuge)
Program Four
Amphion String Quartet - Quartet No. 6 in B-flat Major,  Op. 18, No. 6
Cecilia String Quartet - Quartet No. 8 in E minor,  Op. 59, No. 2
Orion String Quartet - Quartet No. 12 in E-flat Major, Op. 127
Program Five
Students from The Juilliard School - Quartet No. 5 in A Major,  Op. 18, No. 5
Jasper String Quartet - Quartet No. 9 in C major,  Op. 59, No. 3
Orion String Quartet - Quartet No. 16 in F Major,  Op. 135