Faking for the Cameras: Christopher Walken Plays Cellist in 'A Late Quartet'
For the film "A Late Quartet," Christopher Walken plays a string quartet cellist who learns he has Parkinson's disease, and upsets the group's delicate chemistry by announcing his retirement. For an actor long identified with creepy, menacing characters, Walken said he was attracted to "playing a grownup, playing a decent person." But with the quieter, dignified role came another challenge: Beethoven's String Quartet No. 14 Op. 131, one of the monumental works in the quartet literature.
"I've been a singer and a dancer but I've never been able to play an instrument," he said in a telephone interview. "My hands are big and clumsy. That's just not my area of expertise. So it was hard for me. To simulate playing a string instrument is different from pretending to play the piano or a trumpet or whatever. Your hands have to be convincing – both of them."
The film centers on the fictional Fugue String Quartet, a 25-year-old ensemble whose other members are played by Philip Seymour Hoffman and Mark Ivanir (the violinists) and Catherine Keener (as the violist). None of the cast had prior experience as string players. But director Yaron Silberman wanted the performances to look credible even to professional string players in the audience.
He also hoped to minimize the use of hand doubles and various camera tricks. "First of all, you shoot for the moon and you try and do it without doubles at all," said Silberman. "That's the main goal, and then you use other methods – editing and film magic – to fill in the gaps."
Going from Zero to Music Virtuoso
So Silberman and the film's editors filmed an actual ensemble, the Brentano String Quartet, playing Beethoven's Op. 131. A library of close-up shots was assembled that the actors had to learn to mimic. Each actor was assigned two or three teachers, who not only taught them these phrases, but also helped them master details like holding the instrument properly (among Walken's teachers was Andrew Yee, cellist of the Attacca Quartet). Ultimately, a hand double was used for Walken in a couple of sequences, though Silberman said its use was minimal.
Walken drew on personal experiences in preparing for the role. He grew on Manhattan's Upper West Side, surrounded by musical families. "When I was a kid my best friend was a cellist," he said. "His father was part of the NBC Orchestra and his mother was a pianist. Everybody in the family was a musician. That was a certain kind of New York. You know, they made a good living, they lived in a nice apartment, they had a wonderful life. It was a very rich existence."
The actor's early training in dance and musical theater also helped. He's previously played a tap-dancing pimp in the 1981 film "Pennies from Heaven" and later romped through a hotel lobby in Spike Jonze's Grammy Award-winning video of Fatboy Slim's "Weapon of Choice." Walken says he enjoys classical music – his favorite composers include Mahler, Puccini and Elgar – and has read biographies of great musicians.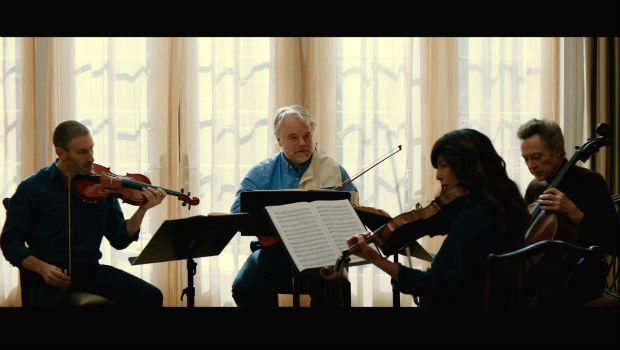 Model Quartets
Silberman drew on music history as well, modeling the Fugue Quartet on several respected ensembles, including the Guarneri Quartet, the Quartetto Italiano and the Emerson Quartet. He also enlisted Nina Lee, the cellist of the Brentano Quartet, to play the student of Walken's character. Lee called the 11- or 12-hour shoots grueling but fascinating.
"It's really a singular experience," Lee said, noting how music was piped onto the set while the actors mimed their parts. "Going into the last part of Opus 131 and they're scratching away, it took me a few takes to zone that out. I'm used to being able to hear something. Philip Seymour Hoffman could make a sound but some of the other guys couldn't even make a sound."
Lee resisted the urge to overwhelm the actors with lots of technical advice, and instead tried to communicate the message of the music. "I tried to put them emotionally in the piece and what it needed to be and what the character behind it was. They were totally up for the challenge." She was particularly impressed by the actors' ability to get into the emotional moment of a scene, shot over and over, a skill that musicians don't normally have to call upon.
Historically, learning an instrument has been rewarded come awards season, whether it's Adrien Brody's Chopin performances in the holocaust drama "The Pianist," Geoffrey Rush as David Helfgott in "Shine," or Joaquin Phoenix and Reese Witherspoon playing Johnny and June Carter Cash in "Walk the Line."
Silberman says he hopes his film may help change perceptions of classical music. "People have the wrong image of classical music being something old or not exciting, which is completely wrong. It's not based on listening to the music but based on some kind of an image," he said. "When you listen to several movements of Opus 131, it's really rock and roll."
A Late Quartet is currently playing at Lincoln Plaza Cinemas and Brooklyn Heights Cinema.