2012 Holiday Guide: A Concert for Every Taste
New Yorkers have no shortage of opportunities to celebrate the holidays with festive music. Below is a guide to some of the noteworthy Christmas-related concerts. Check back here in the coming days for details on WQXR's own series of holiday concert broadcasts as well.
December 9 at Trinity Church
12 December 12 at Alice Tully Hall
Trinity Choir and Baroque Orchestra plays Handel's Messiah
Details>>

The music program at Trinity Wall Street went through a bumpy stretch this year as the church's vestry was reassessing its costs and purposes. But it has returned to form this fall and it closes the year with its traditional performance of Handel's Messiah. Julian Wachner conducts the Trinity Choir and Baroque Orchestra in the church where it reportedly got its US premiere in 1770, and then at Lincoln Center. Listen to last year's performance as broadcast on WQXR.


December 11
Christopher Taylor performs Messiaen's Vingt Regards sur l'Enfant-Jésus
Metropolitan Museum of Art
Details>>
Messiaen's magnum solo piano opus does not immediately scream "holiday cheer" but its mystical and complex movements offer a respite from some of the season's more clichéd sounds. Christopher Taylor, a pianist (and Harvard mathematics graduate), is known to tackle this 176-page score from memory. He'll settle in beside the Met Museum's Christmas tree in the Medieval Sculpture Hall. Listen to the full concert here.


December 11, 13
Handel's Messiah
St. Thomas Church, Fifth Avenue at 53rd Street
Details>>
Among the multitude of Messiahs every December, this version often gets high marks from critics because of the polished St. Thomas Choir and period-instrument accompaniment of Concert Royal under the direction of James Richman. The performance takes place just steps from the festively decorated Fifth Avenue shopping bustle.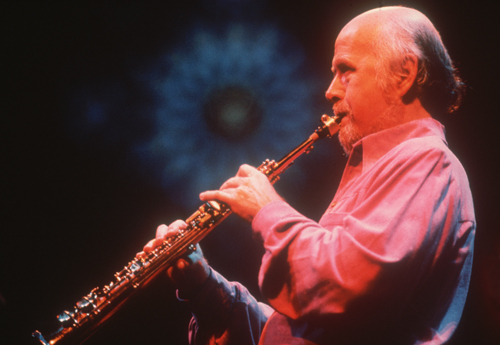 December 13, 14, 15
Winter Solstice Celebration
The Cathedral of St. John the Divine
Details>>
Paul Winter's Annual Winter Solstice Celebration, held in the majestic Cathedral of St. John the Divine, is a holiday-season tradition. Now in its 33rd year, the musical-environmental spectacle celebrates the return of the sun after the longest night of the year (even as it's repeated four times). The event features the Paul Winter Sextet, Theresa Thomason and Forces of Nature Dance Theatre.
December 15
Phil Kline's Unsilent Night
Washington Square Park (free)
Details>>
Phil Kline leads hundreds of revelers for the 21st installment of Unsilent Night -- the 45-minute mobile sound sculpture played on multiple boomboxes that weaves through New York's East Village every holiday season. Watch a video from last year's event in which Kline, who is also a Q2 Music host, discusses the piece's origins.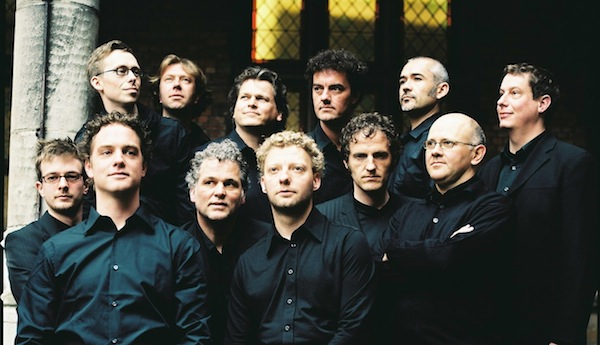 December 15
Bach's Christmas Oratorio
Alice Tully Hall
Details>>
The Collegium Vocale Gent Choir, an old hand in German Baroque music, arrives with its house orchestra and a quartet of soloists to perform four parts of Bach's six Christmas cantatas. For those familiar with Bach's more somber passions, the Christmas cantatas offer an uplifting and even entertaining side to the composer.
December 16, 17
Guggenheim Museum Rotunda Holiday Concert
Vox Vocal Ensemble
Details>>
The Guggenheim Museum's rotunda provides an imposing backdrop for just about any kind of musical performance. But this program of choral Christmas favorites is known to be a particular crowd-pleaser. George Steel takes a break from running New York City Opera to conduct the Vox Vocal Ensemble.
December 18-22
New York Philharmonic plays Handel's Messiah
Avery Fisher Hall
Details>>
On the surface, the New York Philharmonic and New York Choral Artists would seem to represent a more old-fashioned way of presenting Handel's Messiah – all lush textures and expansive strings and brass. But joining them on the podium is Emmanuelle Haïm, the French harpsichordist and conductor known for her diligent work in period-instrument circles. The resulting chemistry should bring out a combination of authentic and modern approaches.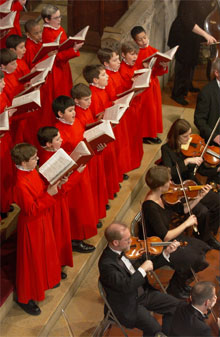 December 20
Ceremony of Carols (Benjamin Britten) & Dancing Day (John Rutter)
St. Thomas Church Fifth Avenue
Details>>
St. Thomas serves up a pair of works for boys' voices.  Benjamin Britten's A Ceremony of Carols is a set of nine carols based on texts by anonymous 15th and 16th century writers, while John Rutter's Dancing Day is a cycle of traditional Christmas Carols, also dating back several hundred years. John Scott directs.


December 22
"Mangia! - Holiday Music That Tastes Like Italy"
Carnegie Hall
Details>>
The St. Cecilia's Chorus, New York's oldest amateur chorus, has long been a December visitor at Carnegie Hall, where it usually serves up helpings of J.S. Bach. This year, however, the group shifts gears to offer a program of Italian-flavored repertoire. Vivaldi's Gloria and Three Motets by Isabella Leonarda will be played along with two recent works: A setting of Handel's Messiah text by former Juilliard president Peter Mennin (born Mennini), and a new work by the New Jersey-based composer Raphael Fusco.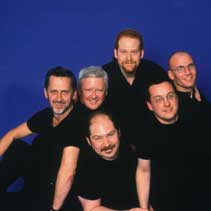 December 23
Lionheart
The Cloisters, New York
Details>>
This early-music vocal sextet has assembled several medieval Christmas programs over the years, each focusing on the hymns, motets and carols of a particular country. This year's offering is "Tydings Trew: Feasts of Christmas in Medieval England," a program the group has also recorded. The Cloisters museum in Upper Manhattan provides an ambient backdrop.
December 24
Bargemusic's Christmas Eve Special
Details>>
Steven Beck boards the barge with J.S. Bach's Goldberg Variations in hand. While tickets aren't cheap, at $75, the admission fee includes sparkling cider and assorted dessert goodies as well as the stunning backdrop of Lower Manhattan.