"Cold Blue Two," our current album of the week, is a hypnotic collection of 14 new works by a diverse group of composers including John Luther Adams, Gavin Bryars, Ingram Marshall and Jim Fox. With the instrumentation varying from string quartet to just intonation steel guitar to celesta with digital delay, this album is like a collection of thoughtfully constructed musical microcosms, all of which share a darkly lyrical aesthetic.
In "Paradigms – New Sounds for the Modern Orchestra," musical unity comes from the common instrumentation rather than from aesthetic similarities. The constant pulse of "Clockwork" by Warren Gooch is juxtaposed with Rain Worthington's flowing, lyrical "Of Time Remembered" and Joseph Koykkar's dramatic work, "Composite." The album includes performances by the Slovak Radio Symphony Orchestra and the Moravian Philharmonic Orchestra.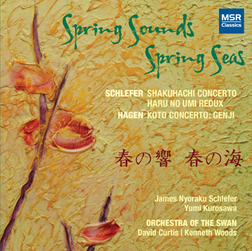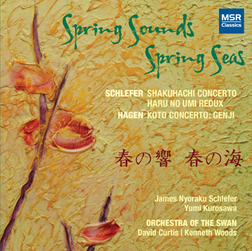 Japanese and Western instruments were first combined in the early twentieth century, most famously in the duo "Haru no Umi" for violin and koto. "Spring Sounds, Spring Seas" offers a new version of the duo with added musical material, in addition to two new pieces: "Shakuhachi Concerto" composed by shakuhachi grand master James Nyoraku Schlefer and "Koto Concerto: Genji" by Daron Hagen. Soloists Schlefer and Yumi Kurosawa are joined by Orchestra of the Swan.