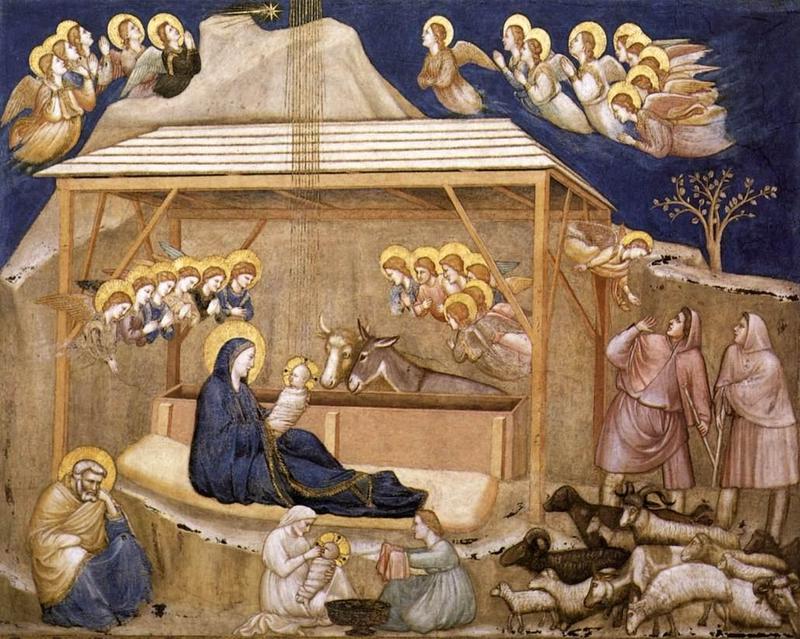 On this edition of The Choral Mix, we celebrate Christmas with a comprehensive look at the ways composers have portrayed the mystery and wonder of Jesus in the Manger surrounded by the animals looking on. We hear choral settings of the O Magnum Mysterium, the indelible mark and influence of Christmas.
The nativity has been depicted in art and music for centuries. In Latin, the scene is called O Magnum Mysterium — "O great mystery, and wonderful sacrament, that animals should see the new-born Lord, lying in a manger!"
Today, we feature choral settings of that text ranging from the Renaissance masters, Palestrina and Victoria through contemporary leading composers like Morten Lauridsen and Ola Gjeilo.
We hear several recordings made right here in New York with the Choir of St. Ignatius Loyola with versions composed by the Spanish Renaissance master, Tomas Victoria and as well as Nicholas White and William Byrd.
Francis Poulenc's setting also adds distinct color with his combination of chord clusters and lyric lines. We also feature a beautiful new setting of O Magnum Mysterium by Nowegian composer, Ola Gjeilo. This new release came from Charles Bruffy and the Phoenix Chorale. And before that you heard the Sixteen new release of Palestrina's O Magnum Mysterium.


Playlist:
Victoria/Silent Night/ St. Ignatius, Loyola, Kent Tritle
O Magnum Mysterium
Byrd/ I Sing The Birth/ New York Polyphony
 O Magnum Mysterium
White/ O Magnum Mysterium/ Tiffany Consort, Nicholas White
O Magnum Mysterium
Poulenc/ O Magnum Mysterium/ Robert Shaw Festival Singers & Robert Shaw Chamber Singers
Four Motets for Christmas: I. O magnum mysterium
Villete/ Villete-Cinq Motets/ Choeur de Chambre de Rouen, Daniel Bargier
O Magnum Mysterium
Morales/ Angelus/ Zephyrus
O Magnum Mysterium
Lauridsen/ O Magnum Mysterium/ Robert Shaw Festival Singers & Robert Shaw Chamber Singers
O Magnum Mysterium
Gjeilo/ Northern Lights/ Phoenix Chorale, Charles Bruffy
Serenity "O Magnum Mysterium"
Palestrina/ Palestrina: Volume 2/ The Sixteen and Harry Christophers
O Magnum Mysterium
Pinkham/True Light/Berlin Philharmonic Wind Ensemble, Phillip Mayers, Berlin Radio Choir, Andre J Thomas
O Magnum Mysterium
Gabrieli/ Great Performances: The Glory of Gabrieli/ E. Powers Biggs, Gregg Smith Singers, The Edward Tarr Brass Ensemble, The Gabrieli Consort La Fenice & The Texas Boys Choir
O Magnum Mysterium
Jacobus Clemens 'non Papa' / Chandos
Tone Elisabeth Braaten, soprano/Ingrid Hanken, soprano/Edda Rydh, mezzo-soprano/Narianne Beate Kielland, mezzo soprano/Per Kristian Amundrod, tenor/Frank Havroy, baritone