Raised in China and trained at Harvard and the New England Conservatory, Lei Liang's music is an organic and arresting blend of Asian and Western traditions. A new album of his music--our current album of the week--features the New York Philharmonic commission, Verge for 18 solo strings performed by Palimpsest Ensemble. Two works on the disc make use of traditional Chinese instruments - Five Seasons written for pipa performer Wu Man and the Shanghai String Quartet, and Tremors of a Memory Chord featuring pianist Pi-hsien Chen and the Taipei Chinese Orchestra.
On 'Au Plus Haut des Cieux', Ensemble Orchestral Contemporain performs four late chamber orchestra works by Edison Denisov, a Russian composer who moved to France after being blacklisted by the Soviet Composers' Union in 1979. The most engrossing works on the album are the titular song cycle and Denisov's orchestration of five songs by Ekaterina Kouprovskaia-Denisova, both performed sensitively by soprano Brigitte Peyré.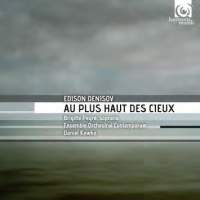 A fresh new recording of Benjamin Britten's Christmas-themed choral works by the Choir of Trinity College Cambridge conducted by Stephen Layton has been released on Hyperion. A Ceremony of Carols, originally written for female voices although it is often associated with boy's choirs, is sung with verve by the women of the Choir of Trinity and harpist Sally Price. Tenor Allan Clayton and the City of London Sinfonia are featured on the equally emphatic performance of Saint Nicholas.