2012 Classical Countdown: Assessing the Winners & Losers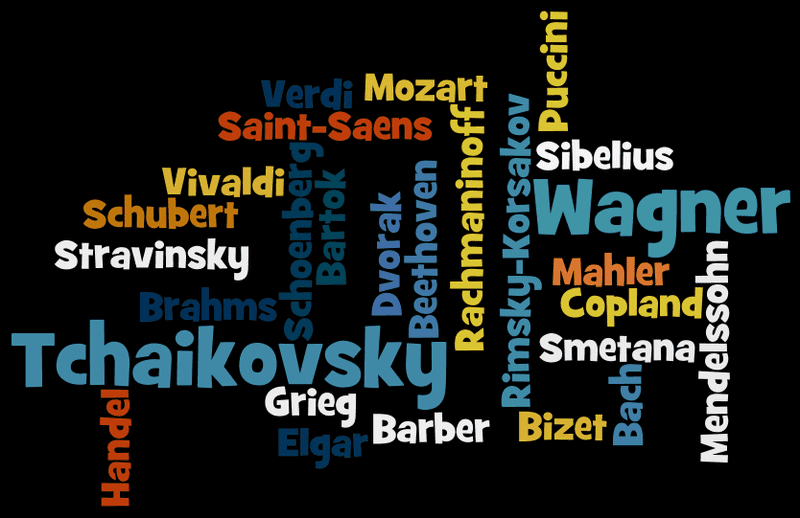 Beethoven's Symphony No. 9 held its grip on the top slot in WQXR's 2012 Classical Countdown, just as it has almost every year since the listener survey was established some 25 years ago.
But while the "Ode to Joy" heralded the New Year in typically rousing fashion, the Countdown also saw some surprises and notable shifts.
The expansion of the survey to 105 pieces (from 75 pieces in 2011) meant that many composers who failed to make the cut in the recent past were ranked this year. Newcomers this year included Rossini, Chopin, Bizet, Grieg, Strauss, Schoenberg and Shostakovich.
At the same time, Beethoven, Mozart, Tchaikovsky and Bach were easily the most popular composers on the Countdown. Conspicuously absent were Haydn, Liszt, Schumann, Ives and Debussy. Monumental, spiritual works struck a particular chord, with the inclusion of requiem masses by Fauré, Brahms, Mozart and Verdi, as well as Beethoven's Missa solemnis (no. 85) and Bach's Mass in B minor (no. 25).
The ranking, based on a three-week online survey that asked listeners to vote for their five favorite pieces, presents a non-scientific picture of WQXR's audience.
A few highlights:
Most popular: Beethoven not only held the most entries, with 11 in total, but he dominated the uppermost slots; six of his symphonies made the top 10. Mozart was nearly as popular, with 10 works, but they were spread out across the survey. Not coincidentally, the Countdown began shortly after Beethoven Awareness Month in November.
Surprise newcomers: Schoenberg's Gurrelieder, a massive post-romantic cantata, debuted on the list at no. 69. Bartok's Concerto for Orchestra arrived at no. 49, and Stravinsky's neoclassical Pulcinella Suite from 1920 turned up at no. 40.
Biggest growth spurt: Samuel Barber's Adagio for Strings climbed from no. 69 in 2011 to no. 15 this year.
Biggest losers: Sibelius's Symphony No. 5 plummeted from no. 23 to 102 while Holst's The Planets dropped from no. 22 to no. 54
Broken down by musical eras, the 19th century accounted for 42 percent of the pieces on the Countdown, followed by the 20th century (30 percent), the Baroque era (19 percent) and the Classical period (9 percent; a category consisting entirely of Mozart). Only two post-1950 pieces were ranked: Leonard Bernstein's Candide Overture and West Side Story.
As a point of comparison, the Q2 Music New-Music Countdown, which focused on pieces from the past 100 years, reveals several acknowledged masterpieces that failed to make the WQXR list, including Steve Reich's Music for 18 Musicians (no. 1), Stravinsky's Symphony of Psalms (no. 8), Messiaen's Quartet for the End of Time (no. 9) and Berg's Violin Concerto (no. 10). Works by John Adams also proved popular on Q2 Music (Harmonielehre and The Dharma at Big Sur at nos. 4 & 5, respectively) but didn't register on the WQXR Countdown.
WQXR listeners commented on individual rankings via Facebook and Twitter.
Nina Basescu, a violinist, wrote on Facebook: "How personally insulting: One of my dearest favorite pieces, Tchaikovsky's 5th Symphony... was beaten this year by one of my least favorite pieces of all time, the very annoyingly BORING Fantasia on a Theme by Thomas Tallis. I play the violin and hope to never have to play that faux-beautiful blob of a piece again!!"
And a listener named Maya offers a psychological theory on Twitter. After seeing Tchaikovsky's Fifth ranked at no. 45, she wrote, "People were too happy in 2012 if Tchaik is this low!"
Ultimately, ranking favorite pieces or composers will always be a highly subjective process for novice or veteran listener.
"The classical repertoire is so vast it can't possibly be boiled down to just 50 or 75 great works," said Matt Abramovitz, WQXR's program director. "We figured, 'let's go for broke and do 105,' but even that larger number barely scratches the surface."
What did you think of the results? What makes a piece of music great? Please leave your comments below.