Violinist Robert Mann, 92, to Lead Master Classes Online
The violinist Robert Mann first made his mark in New York with a Town Hall recital debut in 1941, two days after the attack on Pearl Harbor.
Now age 92, he is leading a series of master classes this week that will be streamed live on the Internet from the Manhattan School of Music.
The Robert Mann String Quartet Institute, as it's called, features the retired founding violinist of the Juilliard String Quartet working with five hand-picked string quartets. Now in its second year, the five-day institute is part of MSM's distance learning program.
The streamed master classes take place Thursday and Friday, both at 2 pm, via MSM's website.
Participating quartets are the Amphion String Quartet, Kleio Quartet and Kubrick Quartet on Thursday, and the Catalyst Quartet and Tesla Quartet on Friday.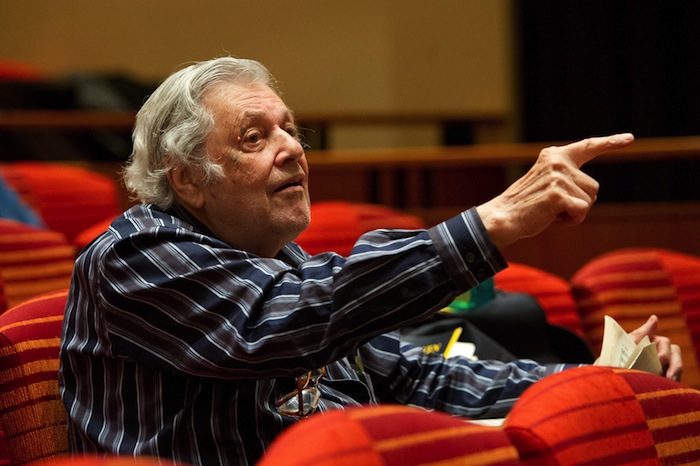 Mann is on the faculty of the Manhattan School and has been president of the Walter W. Naumburg Foundation since 1971. He co-founded the Juilliard Quartet in 1946 and remained its first violinist until 1997. During that time, the Juilliard Quartet coached ensembles like the Tokyo, Emerson, American, St. Lawrence, Colorado and Mendelssohn Quartets.
The seminar concludes with a free concert by the quartets at the Manhattan School of Music on Sunday at 2 pm.
Right: Robert Mann coaches the Aeolous Quartet in 2012 (Photo: Brian Hatton)