Say Goodbye to White Ties? Baltimore Symphony and Parsons Reimagine Orchestra Attire
WQXR VIDEO: Orchestra Attire Gets a Makeover
Olympic swimmers wear caps and goggles designed to minimize torque as they race through a pool. Track and field athletes seek aerodynamically engineered outfits that help shave seconds off of race times.
But orchestra musicians? Despite countless advances in technology and fashion, they have been wearing essentially the same clothes since the time of Brahms: a white tie and tails for men and black gowns for women.
Driven by a desire to modernize the image – and functionality – of orchestra garments, the Baltimore Symphony Orchestra began a pilot partnership with Parsons The New School for Design last fall, aimed at studying new models for concert attire.
Marin Alsop, the music director of the Baltimore Symphony, first approached the school with the idea in 2009. "I see the orchestra evolving and changing but it's a very slow-moving creature," she explained. "We're still wearing the clothes we wore 200 years ago." At a time when orchestras are seeking a fresher identity, the conductor reasoned that garments could be "a very compelling starting point to redesign and maybe reposition the orchestra in people's minds."
Supporters of traditional attire believe that it sets a tone of decorum and visual uniformity on stage. Detractors say tuxes and gowns project a stuffy, Victorian image better suited to debutante balls than a modern arts organization. For musicians, the issue is one of practicality: performing is an athletic activity that demands maximum flexibility.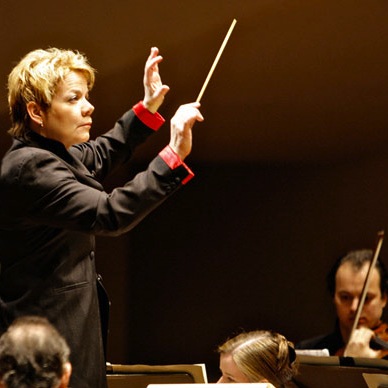 Alsop's challenge was taken up by an interdisciplinary class in the Parsons Design and Technology program, taught by Sabine Seymour and Scott Peterman. In September, the professors and their 16 students took a field trip to Baltimore's Meyerhoff Symphony Hall where they observed musicians and studied their movements. Follow-up visits were made to the Mannes College of Music, also part of the New School.
Several prototypes soon emerged. They included a deconstructed orchestra tailcoat, designed by Isabella Scott and Yumi Chon, both Bachelor of Fine Arts candidates. The goal, the students said, was to increase the musicians' comfort and range of motion by using absorbent fibers, breathable mesh and other sportswear materials.  
Getting Musicians Runway-Ready
At a midterm presentation for Alsop and faculty members, Scott and Chon revealed a mockup of a unisex jacket that did away with the traditional tails, which tend to bunch up during a performance. The students also experimented with pockets, a feature that some woodwind players favored as a way to store spare reeds, but Alsop questioned on visual grounds. The discussion was tabled after several minutes of debate.
"Classical musicians are still wearing garments that were designed before the advent of all kinds of textiles and technologies," said Joel Towers, the executive dean of Parsons, who attended the presentation. "You wouldn't expect an Olympic-quality athlete to go trying to run the 100 meters in a pair of jeans. It doesn't make a lot of sense."
Towers's point was echoed by Ellen Pendleton Troyer, a violinist in the Baltimore Symphony. "For the life of me, I don't understand how men play the violin with a jacket and pads and a bow tie," she said in an interview. "But women have their own issues. Women cellists have this big instrument and have to sit with their knees very far apart. A lot of evening gowns are not made for that.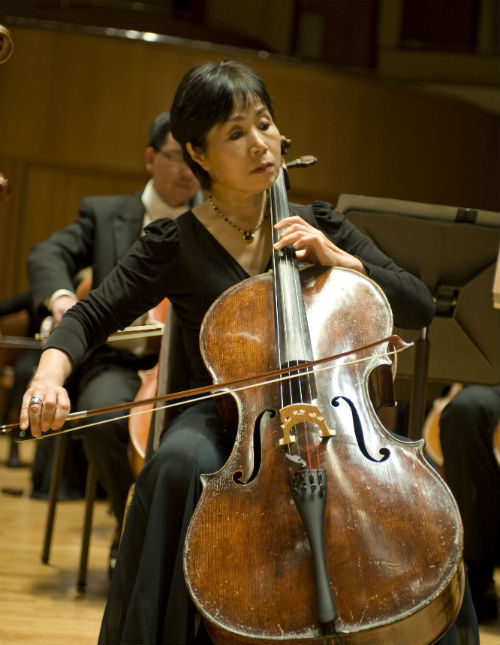 "For violinists, your shoulders have to have movement and you have to be comfortable," she added. "It's not easy to find evening attire now that does that."
Troyer noted that the BSO only began permitting women to wear pants in 1992, but they had to be billowy "palazzo pants," cut with a loose, extremely wide leg. Although that requirement has since been relaxed, women still must abide by rules governing fabrics, exposed arms and even sequins. "It would be fantastic if there was something, especially with fabrics, that can be worn and sweated in over and over again," said Troyer.
This raises larger questions over whether players' garments should reflect the orchestra's image, the players' personalities or even the repertoire. And how casual is appropriate? BSO musicians have reportedly asked whether the Parsons' solution would involve some variant on the "Steve Jobs turtleneck."

Other student projects didn't directly address these questions, instead taking a more conceptual approach. Some experimented with sensor technology. Students Alexandra Zulkoski and Carla Marin envisioned a bracelet worn by the conductor that triggers and guides an animated flock of birds. Each section of the orchestra would also be fitted with a sensor that affects the flock and the birds swoop and dip as the music changes. The flock could be projected on the inside or exterior of the hall.
Later this month, Parsons will resume the project as part of its School of Design Strategies, and pick up the ideas explored in Scott and Chon's jacket prototype.
Alsop hopes that a usable design will emerge in time for the orchestra's centenary in 2016. "I'm hoping that the downbeat that year will show some of these designs in action," she said.
Photo: 1) Marin Alsop (Grant Leighton) 2) Baltimore Symphony associate principal cellist Chang Woo Lee (Dave Harp)