Classical Label Climbs Back After Sandy Submerges Office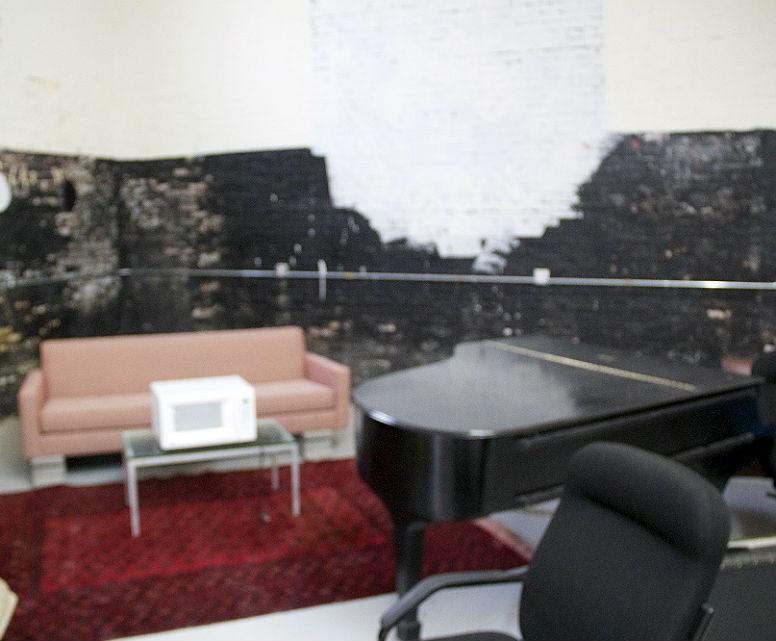 When Superstorm Sandy barreled into the New York region, it left cancelled concerts in its wake as well as soaked paintings, submerged sets and costumes, and ruined musical scores. There were also countless artists whose livelihoods were upended.
Eight weeks after Sandy, the offices of New Amsterdam Records, an independent new-music label in Red Hook, Brooklyn, remain battered. Four feet of corrosive salt water flooded the space, destroying some 3,000 CDs as well as furniture, supplies, carpets, keyboards, amplifiers and interior walls. While equipment can be replaced or repaired; other more insidious problems have emerged: the proliferation of toxic mold.
The cleanup process illustrates the challenges facing a nonprofit arts group with limited reserve funds and a status as a tenant with no flood insurance.
"We're in a worst-case scenario with the mold," said William Brittelle, a co-director of the label, during a visit to the office in late December. "We have raised a lot of money but it is money that already needs to cover stuff. The mold was the one thing that could make or break it."
But since the initial word of the hurricane's ravages, New Amsterdam Records has become something of a cause célèbre in the tight world of contemporary classical musicians and their devotees. A marathon fundraising concert organized by a group of musicians in Chicago brought in just under $3,000 on December 16. The label's founders say they have also received offers of free temporary office space from other Brooklyn arts organizations. Handfuls of supporters helped to scrub the space and remove damaged drywall.
Still, New Amsterdam faces other challenges. The label's landlord, Jabus Building Corp., a construction company specializing in Brownstones, estimates losses of $100,000 of its own equipment, including two of its trucks. Brittelle remains cautiously optimistic that Jabus will handle the mold remediation.
Replacing damaged equipment is more daunting. Brittelle insists that a loan is not an option because of the label's limited income. "We're a nonprofit presenting organization and a for-profit label but we give 80 percent of our proceeds back to artists," he said. The rest of the funds go to marketing and distribution costs.
Funding from FEMA and the city's Rapid Repair program is geared primarily towards homeowners, and neither provides assistance for mold abatement. Other grants are aimed at individual artists, including those from the New York Foundation for the Arts (which has assisted 650 artists in New York and New Jersey, and had requests totaling $14 million, according to deputy director Mark Rossier). So far, the label has received a $1,000 grant from the New York Council for the Humanities.
Idealistic Goals Meet Financial Realities
New Amsterdam moved into the space, a former biker bar, last June, intending to use it as a rehearsal and events space for its musicians. At 3,000 square feet, it was 12 times larger than its previous office in Cobble Hill, Brooklyn. Being located on an industrial block, there was little chance of disturbing neighbors with loud music. They hoped to rent out to artists at $10 or $15 an hour, as opposed to $80 an hour for comparable venues, said Brittelle.
Brittelle and his co-directors – composers Judd Greenstein and Sarah Kirkland Snider – spent last summer renovating, painting over biker insignia and furnishing it with couches, kitchen appliances and a donated Steinway baby grand (the piano survived the storm, being covered in layers of tarp and raised off the ground).
The day after Sandy hit, the label owners returned to the space and began to shovel out. "There was sewage in the water," said Brittelle. "It was super gross. All of us started feeling sick so we went home and got masks. There was also bleach and paint thinner in the water, especially in the storage area."
By late December, damage was still very much in evidence. "This rug was basically ruined," Brittelle said, pointing to a musty 8x10-foot carpet. "We had two or three couches that were ruined, a bunch of amplifiers, two desks, two computers, a $650 air conditioner. Some of our financial records are hanging up there. Some of this stuff, if you dry it out for a few months, who knows?"
With the label's directors now working out of home offices and coffee shops, the organization plans to proceed with its release schedule (a traditional hiatus takes place in January). The next release, due out in March, is a solo recording by the violist Nadia Sirota, who is also a host on Q2 Music. Others are planned through the spring months.
Brittelle hopes that once the company replaces drywall, equipment, cabinetry and furniture, a full return to the offices will be possible in May. When asked whether, in retrospect, the label could have done more to prepare for the storm, Brittelle said, "There was one other flood in here and we got eight inches of water. I thought we were being excessive by how much we prepared. We never dreamed that we were going to get this much damage."
Photos: 1) The entrance to New Amsterdam's offices, flanked by damaged property; 2) Financial documents hang to dry (Brian Wise/WQXR)