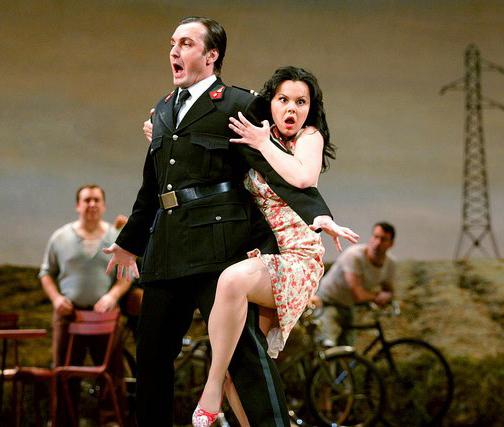 • Listen to the Operavore stream
There's not a lot to be taken seriously The Elixir of Love, the comic romp by Donizetti. Unless, of course, you count the music. It's some of Donizetti's finest and it takes the opera beyond the world of farce to a place where simple confidence leads to life-changing revelations.
This production comes from one of the world's great operatic venues, London's Royal Opera House, Covent Garden, in a production featuring one of today's prominent tenors, Roberto Alagna. He stars as the lovesick Nemorino, alongside soprano Aleksandra Kurzak as Adina, and baritone Ambrogio Maestri as Dr. Dulamara, the shady salesman whose dubious tonic gets the story rolling.
Cast:
Conductor: Bruno Campanella
Nemorino: Roberto Alagna (tenor)
Adina: Aleksandra Kurzak (soprano) 
Dr. Dulcamara: Ambrogio Maestri (baritone)
Belcore: Fabio Capitanucci (baritone)
Giannetta: Susana Gaspar (soprano)
Royal Opera House Orchestra and Chorus