Librettos and Libations: Music in the Vineyards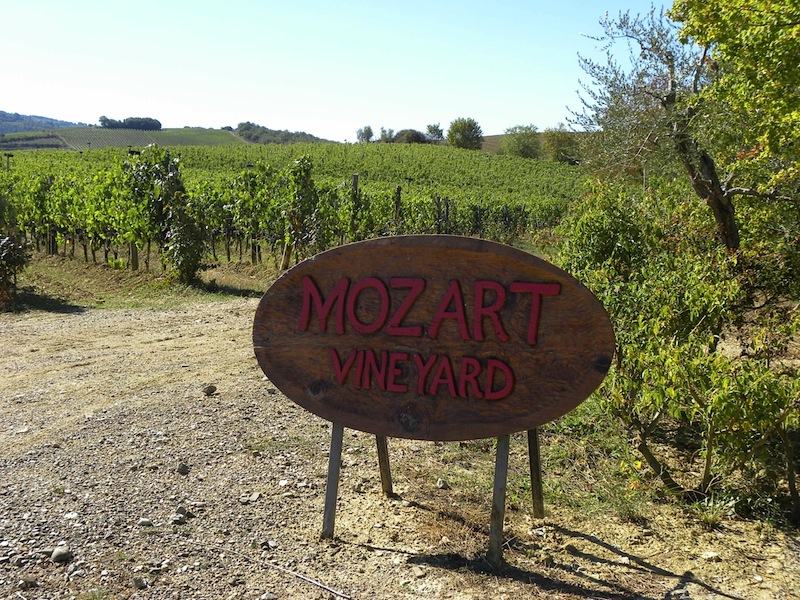 Aristotle said that "Wine makes the taciturn loquacious and the loquacious taciturn." As I sit writing this with a glass of Pinot Noir near at hand I hope to strike the proper balance between those two expressive extremes. If I pour a second glass, though, all bets are off.
Wine, whether still, sparkling or fortified, really flows in opera. The elixir in Donizetti's L'Elisir d'Amore is simply cheap Bordeaux, though most characters in the opera are too provincial to know that. Don Giovanni, in the last scene of his opera, praises Marzemino (called Marzimino in the libretto), which is a wine from northern Italy rather than Seville, where the opera is set. The story of this is interesting: the 13-year-old Mozart and his father were on an extended visit to Italy. Their first stop was in Rovereto, south of Trento, on Dec. 24, 1769. The local red wine there was (and still is) Marzemino and Mozart had his first taste and never forgot it. He had the Don drink it when he wrote the opera two decades later. 
Champagne is a popular libation in opera. Don Giovanni sings a so-called Champagne aria but I think it is called that because the music sparkles. He mentions the boundless amounts of wine he will serve at a party as he looks for more women to seduce. Alfredo and Violetta raise a toast with the bubbly in La Traviata. In the party scene in Die Fledermaus, all the guests fall under the spell of King Champagne.   
German-language opera has its share of wine too. In Tannhäuser it is not made specifically clear that lots of wine is consumed on the Venusberg, the so-called "mountain of ill repute," but take my word for it. In fact, in Germany there is a light but heady rosé called Venuswein named for the character in the opera. In addition to Champagne, a lot of still wine is consumed in Die Fledermaus to some really intoxicating music. Baron Ochs, in Der Rosenkavalier, declares a fondness for Tokay, the sweet Hungarian wine. Later on, he tries to seduce "Mariandl," who is in fact the young man Octavian. Here is a lovely old version of that scene:
Fortified wine (which has a higher level of alcohol than table wine) appears in opera too, especially sherry. In her Seguidilla, Carmen talks of going to the tavern of Lillas Pastia for some manzanilla, a mid-weight sherry. Scarpia is drinking "Vin di Spagna" in the second act of Tosca. Although it is never made clear which Spanish wine this is, I put my money on sherry. It is also Falstaff's preferred drink, both in company and to warm him after he has been tossed into the Thames River in a laundry basket. Here is a great performance of the whole opera, with Bryn Terfel in the title role:
Many conductors and instrumentalists I know have a great passion for wine, some preferring quantity while others prefer quality. There is an organization of women in Italy who produce or sell wine called Le Donne del Vino. Their motto is "Poco, ma buono," suggesting that wine should be consumed in moderation but it should be good. 
Singers are less likely to consume wine in any notable quantity because it naturally contains tannins (as do coffee and tea) that can attach to the vocal cords or dry the throat. Most singers I know, when they are in rehearsal or performance, will only have white wine, which is less tannic, or avoid wine altogether. 
Interestingly, there are singers who produce wine as a hobby or as a second profession. In my post about opera in South Africa, I mentioned my late friend Deon van der Walt:
"Deon van der Walt, (1958-2005), a tenor who specialized in Mozart and Bel Canto, was a friend of mine and a talented winemaker in addition to his singing career. He performed at the Met, La Scala, Vienna, Covent Garden, Barcelona and elsewhere. In a death as operatic as it was tragic, he died when he was shot twice in his chest by his father, who then committed suicide."  
Deon and I did a couple of public tastings in New York in which he brought the Stellenbosch wines he produced and we switched back and forth discussing wine and opera. Soprano Cecilia Gasdia is from Verona, the city where a huge wine event called Vinitaly is held each spring (this year April 7-10). It is to wine what Cannes is to the movies. Gasdia, when she is not singing, is a very active Donna del Vino.
Andrea Bocelli, not everyone's idea of an opera singer, and his brother Alberto own and operate a winery near Pisa that has been in the family for 130 years. Because Bocelli's music career requires that he travel a fair amount, the daily operations at the winery are run by Alberto. I contacted them to ask about Andrea's connection to the winery and he responded with a nostalgic recollection of his late father, Sandro Bocelli:
"When I return home after my long work trips and prolonged deprivation of the comforts of home, one of the sweetest moments is seeing that bottle of wine from my land, there in the middle of the table; it gives me a joy that is hard to match. It brings me back in time, to memories of my father with his powerful but calm voice extolling the fruits of his vineyard and labor, pouring the wine with a quasi-religious respect.

I do not know what I'd give for him to be able to see with his own eyes what has been accomplished in the last few years, with many efforts in various directions, primarily for the love of him and for the love that he had for his land. I'm sure he'd be extremely proud. So many times, we would be in the cellar, I would drink the wines with him in his company, always together with my brother Alberto, and my mamma, and everyone in my family, always finding just a bit of peace and serenity."
I recently tasted their Super Tuscan called Alcide which is 50 percent Sangiovese and 50 percent Cabernet Sauvignon. I tried the 2008 vintage, which is nicely balanced in terms of the two grapes and has a pleasingly inky intensity.
Giuseppe Verdi was quite the wine expert. When he traveled to St. Petersburg in 1862 to compose and produce La Forza del Destino, a train was created that had one car for him and his wife, another to transport pasta, prosciutto, Parmigiano-Reggiano and other foods he loved. Another car was sent to France to get Bordeaux, Burgundy and Champagne. The cars were united in Berlin, from which the composer proceeded to Russia. Around Parma today there are many "Verdi wines" with the composer's image on the labels.
Last fall, during harvest time, I visited a winery called Il Paradiso di Frassina near Montalcino in Tuscany. I went because I heard that the owner, Carlo Cignozzi, produced what was called "Mozart Wine." The real story is more interesting than a simple marketing ploy. Working with experts from the universities of Florence and Pisa, Cignozzi grows organic grapes (with no chemical treatment) for wine, using a process he calls fonobiologia. In simple terms, he believes that the music of Mozart keeps away insects and pests that would harm his grapes.
Cignozzi told me, "All the universe is vibrations, from DNA to ocean waves. Music, though, is different, because its vibrations are harmonic." He believes that the music of Mozart is the most harmonic and effective for his grapes. Throughout his extensive vineyards are Bose speakers that play Mozart 24 hours a day. Unfortunately, he does not play Mozart operas because he says the human voice is in a different range from instruments and less likely to keep insects off the grapes.
My favorite wine-related opera aria does not have a happy conclusion. "Mamma quel vino è generoso" from Cavalleria Rusticana is sung by the Sicilian Turiddu to his mother, who owns a trattoria where the wine is heady. He realizes the wine he drinks will be his last before he is stabbed in an honor killing. Plácido Domingo is superb in this scene from 1978, with a peerless Tatiana Troyanos as Santuzza, who loves him even though he has spurned her. After watching this scene, you might need something stiffer than a glass of wine: