Mezzo-Sopranos Specialize in Opera's Meatier, Darker Roles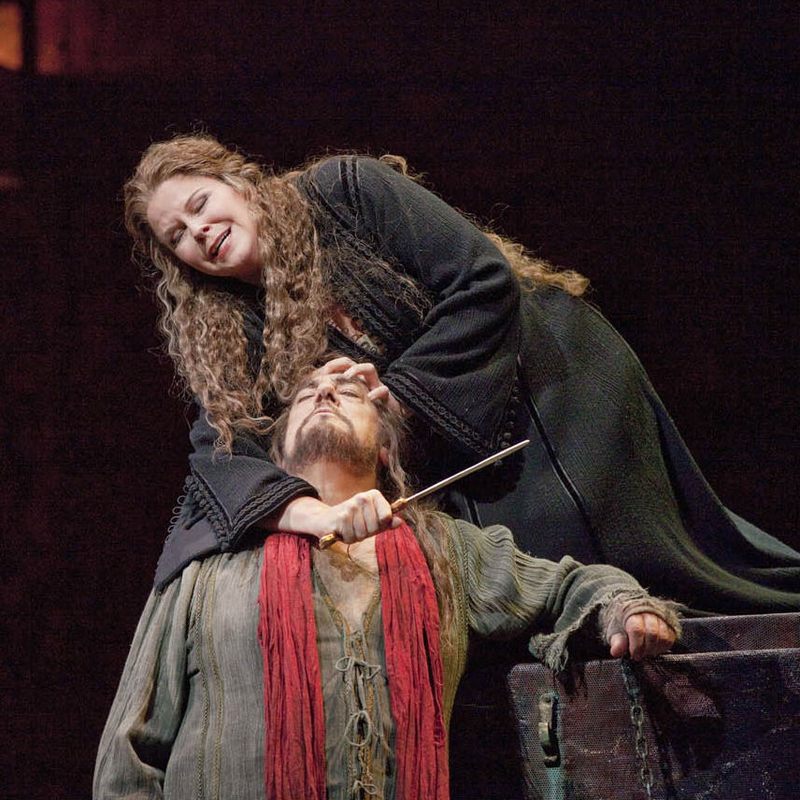 Mezzo-sopranos role in opera are the witches, bitches and britches. Think Ulrica in A Masked Ball, Eboli in Don Carlo and Cherubino in The Marriage of Figaro. They can also be the soprano's best gal pal, her faithful confident — and sometimes, her competition.
If tenors and sopranos can be demanding and high strung, mezzo-sopranos tend to be more grounded.
Today we ask what makes a mezzo a mezzo, straight from two experts on the subject: Marilyn Horne and her special guest Susan Graham.
But, Parterre Box's James Jorden says when you mix a mezzo with a soprano, the results can be explosive! ("Two divas Faustina Bordoni and Francesca Cuzzoni got into a wig-pulling cat fight right there on stage.")
---
From this week's newscast: Are opera and ballet elitist? This Monday, the Royal Opera House Covent Garden and the Telegraph newspaper in London will be hosting a debate, streamed live on the Internet, which will look at this question. The webcast can be viewed here.
Playlist:
Music in the Susan Graham Interview
Ned Rorem (b. 1923)
 "O you whom I often and silently come (Whitman)
Susan Graham, mezzo soprano
Malcolm Martineau, piano
Warner Classics  2564 69879-8
Prokofiev Alexander Nevsky, Op. 78
Kirov Orchestra and Chorus
Valery Gergiev
Olga Borodina, mezzo soprano
Philips 473600
Faure:  "Pleurs d'or. Op. 71
Text:  Albert Samain
Renee Fleming and Susan Graham
Bradley Moore, piano
Carnegie Hall Recital Broadcast
Mozart:  Cosi fan tutte "Ah, guarda, sorella"
Renee Fleming and Susan Graham
Bradley Moore, piano
Carnegie Hall Recital Broadcast
Handel: Alcina
Les Arts Florissants
William Christie
Alcina:  Renée Fleming
Ruggiero: Susan Graham
Bradamante:  Kathleen Kuhlmann
Erato 8573-80233-2
Other Music Featured in this Episode

Verdi:  Oberto Conte di San Bonifacio
"Un giorno dolce nel core . . .  Piu che i vezzi e lo splendore"
Broadcast of December 8, 1952
Symphony Orchestra of Torino of Italian Radio/Television
Oliviero de Fabritiis
Ebe Stignani
Cetra CDMR 5024
Handel:  Rinaldo
"Fermati!  No, crudel!"
Metropolitan Opera Orchestra
James Levine
Leontyne Price
Marilyn Horne
RCA Red Seal RCD24609