Gustavo Dudamel Conducts Bolivar Orchestra at Chávez Funeral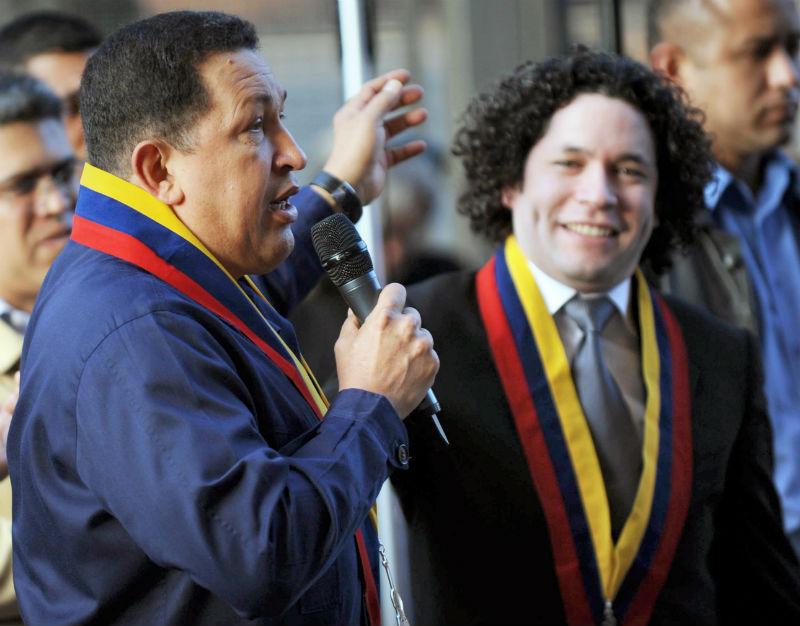 Updated Friday 3/8/13 at 1:30 pm
Venezuelan conductor Gustavo Dudamel attended the funeral of President Hugo Chávez in Caracas on Friday, conducting the Simon Bolivar Symphony Orchestra and a choir in the country's National Anthem and other selections.
Dudamel's trip forced him to miss Friday evening's concert at the Los Angeles Philharmonic, where he is music director. In addition to his LA duties, Dudamel is music director of the Simon Bolivar Symphony Orchestra, which is based in Caracas.
Dudamel has largely refrained from speaking about Venezuelan politics, saying in interviews that his sympathies are with his fellow countryman. He is arguably the most famous product of El Sistema, Venezuela's pioneering music education program.
On Wednesday Dudamel provided a statement to the AFP news service. "This is a very sad day for my country and my countrymen," said Dudamel. "My deepest condolences to the family of President Chavez and the Venezuelan family in this difficult time."
Below: Dudamel conducts at the Chávez funeral: