Hallelujahs Through the Ages
Sunday, April 07, 2013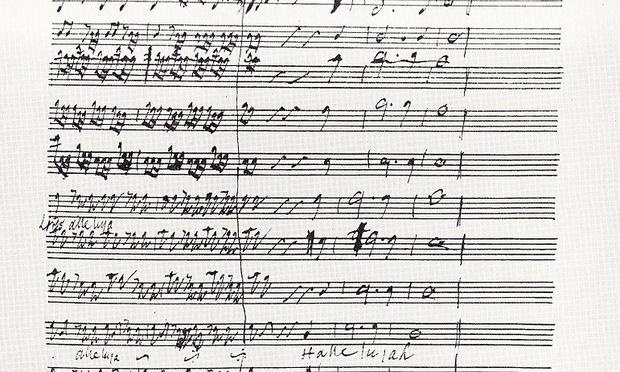 (Wikimedia Commons/---)
On this week's show, we celebrate Hallelujahs through the ages: Hallelujahs from Handel's oratorios; Hallelujahs from the sacred Jewish tradition; Hallelujahs from Tallis and Bach to Taverner and Whitacre.
Everyone is familiar with the Hallelujah chorus from Handel's oratorio Messiah. It just might be the most familiar classical music theme there is. Less well known is the Hallelujah that concludes Handel's oratorio Judas Maccabeus. Grand, joyous and set in the familiar key of D, we feature a performance with Jurgen Budday leading the Maulbronn Chamber Choir and Musica Florea.
Thompson's, Alleluia has become a staple in many choirs repertoires, even though it's difficult to sustain the line and pitch. Few do it as well the Robert Shaw Chamber Singers.
Salamone Rossi was the greatest Jewish composer of the 16th and 17th centuries. His work spanned the late Renaissance and the early Baroque which was an exciting transition in music. We play two settings by Rossi -- Haleluyah (Psalm 111) and Haleluyah (Psalm 112), adjacent to Louis Lewandowski's setting of Hal'luyah Psalm 150 performed by Chicago a Cappella.
A few others on the program include accomplished contemporary composer James MacMillan's Christus Vincit, Tavener's ethereal Song for Athene sung by Tenebrae, and Eric Whitacre's Alleluia.
Playlist:
Handel/Handel: Judas Maccabeus/Maulbronn Chamber Choir, Jurgen Budday Musica Florea
Hallelujah, Amen
Thompson/ A Robert Shaw Christmas: Angels on High/ Robert Shaw & Robert Shaw Chamber Singers
Alleluia
Rossi/Songs of Solomon/Pro CantioneAntiqua & Sydney Fixman
Haleluyah Psalm 111
Lewandowski/Days of Awe and Rejoicing/ Chicago a Cappella
Hal'luyah Psalm 150
Rossi/Songs of Solomon/Pro CantioneAntiqua & Sydney Fixman
Haleluyah Psalm 112
MacMillan/ MacMillan Masses & Other Sacred Music/Westminster Cathedral Choir, Martin Baker
Christus Vincit
Tavener /Allegri Miserer/Tenebrae, Nigel Short
Song for Athene
Tallis/Thomas Tallis: The Complete Works, Volume 1: Music for Henry VIII/Chapelle du Roi, Alistair Dixon
Alleluia: Ora pro nobis
Whitacre/Water Night/Eric Whitacre & Eric Whitacre Singers
Alleluia
Bach/ Bach Motets/Bach Collegium Japan Chorus & Bach Collegium Japan, Masaaki Suzuki
Lobet Den Herrn, Alle Heiden
Buxtehude/Nuit sacree/ Concerto Koln, Accentus &Laurence Equilbey
Cantata 5 BuxWV 15: Alleluia
Handel/Messiah/English Baroque Soloists, Monteverdi Choir, John Eliot Gardiner
Hallelujah
The WQXR e-newsletter. Show highlights, links to music news, on-demand concerts, events from The Greene Space and more.