Helga Davis Escapes from Sharks and Jumps from Cars
Fridays at 3 pm: Host Helga Davis and The Worst-Case Scenario Survival Handbook
Friday, April 05, 2013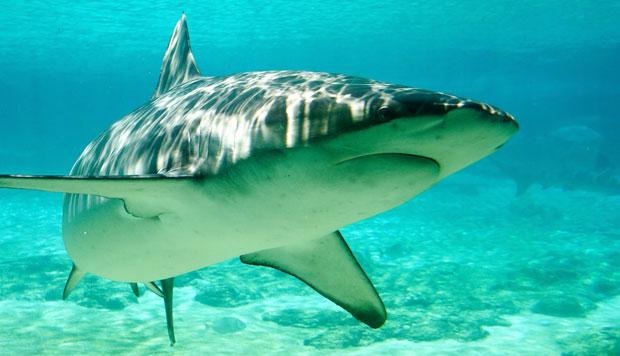 (Steve Garner/flickr)
This is the fifth of five episodes in a series called The Best for the Worst which streams Fridays at 3 pm beginning Mar. 8 on Q2 Music. The Best for the Worst presents readings from The Worst-Case Scenario Survival Handbook and insights from host and Einstein on the Beach principal Helga Davis along with a soundtrack of illustrative, dynamic new music. This week's episode: "Willpower."
Living Music. Living Composers.

More
Host Helga Davis writes:
Wow.

That was quick.

This week makes for week five of five of our Best for the Worst shows.

I was taking a look through all the scenarios and trying to choose a favorite. The one that made me laugh the most was probably "How to Land an Airplane." It's too nutty to think that if I were in a plane that was going down I'd be doing anything but screaming. The one time I was on a flight with really bad turbulence, I thought I'd go down singing, but of all the songs I know the only one that came to mind in that moment was Kansas', Dust in the Wind…

The scenario that offered the most practical and useful information for me was "How to Escape from a Sinking Car." I've read and listened to that one over and over again. "Find a blunt object. Break a window. Get out as soon as you can... Deep breath in. Float to the top..." But in truth, I read them all as metaphor; the scenarios offer a chance to remember that in any situation if I don't panic, I'll be able to make a good choice for myself – a choice that will ensure my physical, emotional and existential survival.

"Willpower is the most crucial survival skill," says the guide. I've got plenty of that, and I imagine you do too. Plus we have music as one of our greatest resources and we know that "Resources and improvisation equals survival." Thank you for letting me share this time with you.

Until soon.
Scenarios excerpted from The Worst-Case Scenario Survival Handbook by Joshua Piven and David Borgenicht, Copyright © 1999 Quirk Productions, Inc.
Playlist:
Michael Gordon: Early Birds
itsnotyouitsme: We Are Malleable, Even Though They Seem to Own Us
Valgeir Sigurdsson: Beyond the Moss
DJ /rupture: Is It True
John King: Sweet Hardwood: "Shuffle"
Willie Dixon: Insane Anylum
Damian Le Gassick: Mad Legs in a Sack (excerpt)
Allison Cameron: 3rds, 4ths and 5ths
Brian Eno: Ambient 4: "On Land" (excerpt)
Philip Glass (remixed by Hector Castillo & Eduardo Larez): Saxophone Concerto
Vijay Iyer: Galang (Trio Riot Version)
More in:
The WQXR e-newsletter. Show highlights, links to music news, on-demand concerts, events from The Greene Space and more.