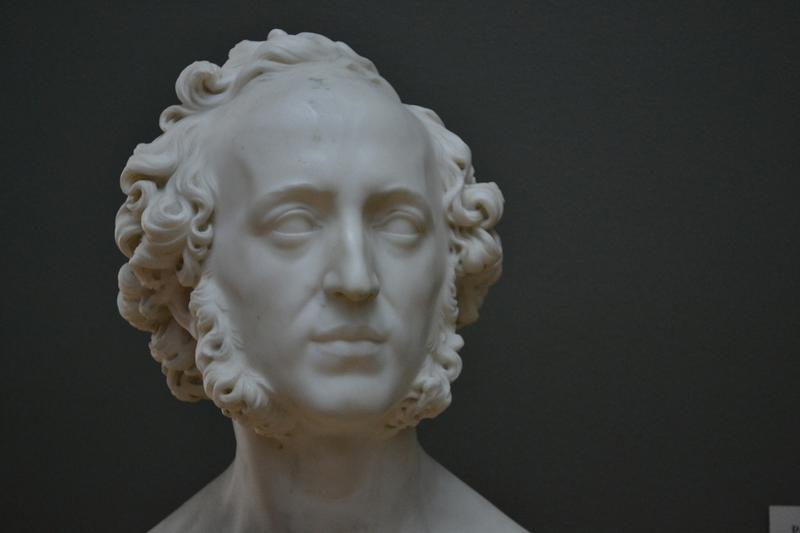 Each of the great first generation of romantic pianist-composers had a very specific style of playing that influenced those who came after them.
Felix Mendelssohn played with little arm movement, curved fingers and he was sparse in using of the pedals. He also favored quick tempos. His music was as transparent as Mozart's, each note requiring an unusual precision. On this edition of The Romantic Piano, we focus more on the music of Felix Mendelssohn.
Mendelssohn lived only until the age of 38. Few artists ever worked harder for the good of the art of music. He one of the first to perform old and forgotten music. At only 19, he gave the first performance of Bach's St. Matthew Passion since its premiere in 1736.
Born into a wealthy banking family, early celebrity allowed him to escape many of the worst indignities of anti-Semitism. German Jews of his era rarely attained the peak of their professions without converting to Christianity. So Mendelssohn made a commonplace move, converting to Protestantism around his 19th birthday.
While working tirelessly, he founded major musical festivals in Dusseldorf and in Birmingham, England, as well as founding the Gewandhaus Orchestra in Leipzig. During the 1830s and '40s, he was Germany's greatest conductor by far, and added much to the repertoire to his fledgling ensemble. In addition, he also founded one of the most important music schools of the 19th century, becoming its director - the Leipzig Conservatory of Music.
Playlist:
Felix Mendelssohn: Songs without words, vol 1, Op. 19b: no 6, Andante sostenuto "Venetian Gondola Song" / Ignaz Friedman
Felix Mendelssohn: Scherzo a capriccio for Piano in F sharp minor / Vladimir Horowitz
Felix Mendelssohn: 7 Charakterstucke, Op. 7: No. 1. Sanft und mit Empfindung / Benjamin Frith
Felix Mendelssohn: Fantasia for Piano in F sharp minor, Op. 28 "Sonate écossaise"; III Presto / Shura Cherkassky
Felix Mendelssohn: Songs without words, vol 8, Op. 102: no 5, Allegro vivace in A minor "Child's Piece" / András Schiff
Felix Mendelssohn: Variations Sérieuses (17) for Piano in D minor, Op. 54 / Murray Perahia
Felix Mendelssohn: Songs without words, vol 3, Op. 38: no 6, Andante con moto in A flat major "Duetto" / Ignaz Friedman
Mendelssohn-Rachmaninoff: Scherzo from "A Midsummer Night's Dream" / Benno Moiseiwitsch
Felix Mendelssohn: Songs without words, vol 6, Op. 67: no 4, Presto in C major "Spinning Song" / Josef Hofmann
Fanny Mendelssohn-Hensel: Allegro di molto / Joanne Polk
Felix Mendelssohn: Songs without words, vol 5, Op. 62: no 6, Andante grazioso in A major "Spring Song" / Vladimir Horowitz