Frédéric Chopin: The Poet of the Piano
Thursday, May 02, 2013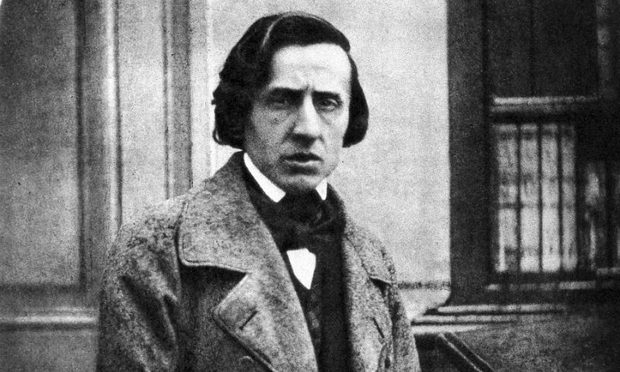 (Louis-Auguste Bisson)
By the 1830s, the piano could sigh or shiver, quiver and swoon as no other instrument had ever done. No one had understood the piano's special resources and enchantments more completely than Frederic Chopin, as David Dubal illustrates on this week's episode.
Pianist, teacher and author David Dubal hosts a weekly exploration of classical music's piano greats.

More
One of the chief aspects of the Romantic Age is the cult of the individual. The solo piano was ideal for the creation of larger than life virtuoso gods viewing the stars. At conservatory, Chopin was hardly a good student and almost failed every class he took. But at home, he continuously experimented with the piano, the only thing that ever interested him. From this intense devotion, Chopin grew to become one of the greatest coloristic virtuosos.
When Chopin arrived in Paris, the city had attracted the great and the near great in every field. The liberal city teamed with Polish exiles which delighted Chopin because he loved speaking in his own language. In early 1832, the young Pole made his debut at the hall of the Pleyel Piano firm. In the audience were Mendelssohn, Liszt and many other important musicians: all of them intoxicated by his ravishing tone and poetic playing. From that moment forward, Frederic Chopin held a unique place in the crowded pianistic pantheon of his time.
The English composer, Cyril Scott once wrote, "Chopin was the musical poet par exellence of refinement - not a superficial, but an inner refinement of soul; his refinement... was the character and keynote of his music... in his music, at times, and in varying degrees, is that aroma of sadness which is the quintessence of all genuine lyric poetry."
It is safe to say that Chopin is the overwhelming favorite composer of the piano.
Playlist:
Chopin: Prelude for Piano, Op. 28: no 24 in D minor / Martha Argerich
Chopin: Mazurka for Piano, B 105/Op. 30: no 4 in C sharp minor / Vladimir Horowitz
Chopin: Nocturne for Piano, B 152/Op. 55: no 2 in E flat major / Ignaz Friedman
Comparison pieces of Chopin:
Etude for Piano, Op. 25: no 6 in G sharp minor "Etude in 3rds" / Josef Lhévinne
Etude for Piano, Op. 25: no 6 in G sharp minor "Etude in 3rds" / Ignaz Friedman
Chopin: Prelude for Piano, Op. 28: no 4 in E minor / Alfred Cortot
Chopin: Sonata for Piano no 3 in B minor, B 155/Op. 58: 4th movement, Presto non tanto / William Kapell
Chopin: Impromptu for Piano no 3 in G flat major, b 149/Op. 51 / Vladimir Sofronitzki
Chopin: Scherzo for Piano no 3 in C sharp minor, B 125/Op. 39 / Byron Janis
Chopin: Etude for Piano, Op. 25: no 2 in F minor / Emil Gilels
Chopin: Polonaise in A flat major, B 147/Op. 53 "Heroic" / Artur Rubinstein
The WQXR e-newsletter. Show highlights, links to music news, on-demand concerts, events from The Greene Space and more.