Hopkinson Smith Strums Bach Cello Suites on Lute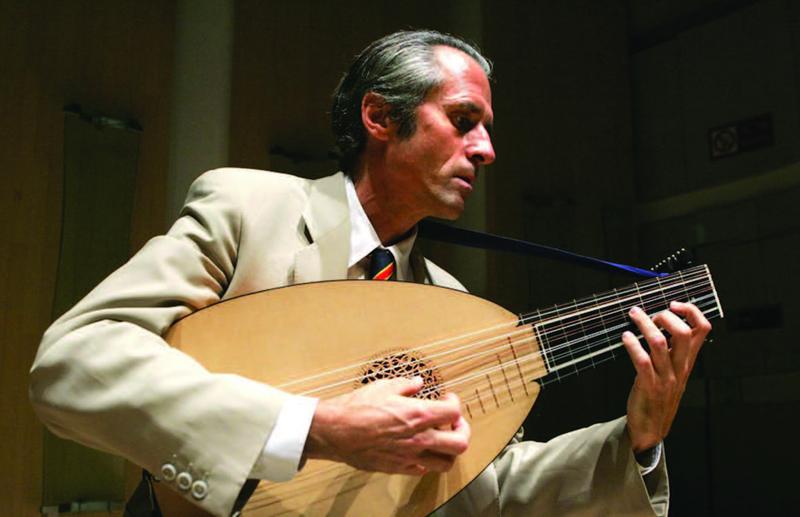 The New York-born lutenist, theorbo player and guitarist Hopkinson Smith has been on the front lines of the early-music movement since the mid 1970s. He was a co-founder of the ensemble Hespèrion XX, and spent ten years in the group. He has since gone on to build a solo career espousing the glories of early plucked instruments, long before pop star Sting made the lute trendy.
Smith is no purist when it comes to transcriptions. He has previously arranged and recorded a number of Bach's sonatas and partitas for solo violin. The latest recording is the second of two devoted to Bach's six suites for solo cello, transcribed by Smith for lute.
In the album's liner notes, Smith notes that "transcriptions are not highly thought of," and even "strongly condemned by a whole host of music lovers in the name of historical accuracy and respect for the original work." But he makes the case that the lute brings something new to the table: whereas Bach's cello suites use single melodic lines to suggest all of the elements of the musical structure (harmony, potential base and intermediary parts), the lute, a harmony instrument, fleshes out these dimensions.
Smith plays the elaborate prelude of the Suite No. 4, with a stately sense of purpose. He proceeds with a lyrical Sarabande, pleasant bourrees and a whirling Gigue. In the Suite No. 6 he is especially convincing in the formidably technical Courante. The album includes Bach's own lute arrangement of his Cello Suite No. 5, still preserved in an autograph manuscript and played with gentle authority. 
What do you think? Is this the way to approach the Bach Cello Suites? Leave your comments below.
Hopkinson Smith
Bach: Suites Nos. 4, 5 and 6
Naïve
Available at Arkivmusic.com