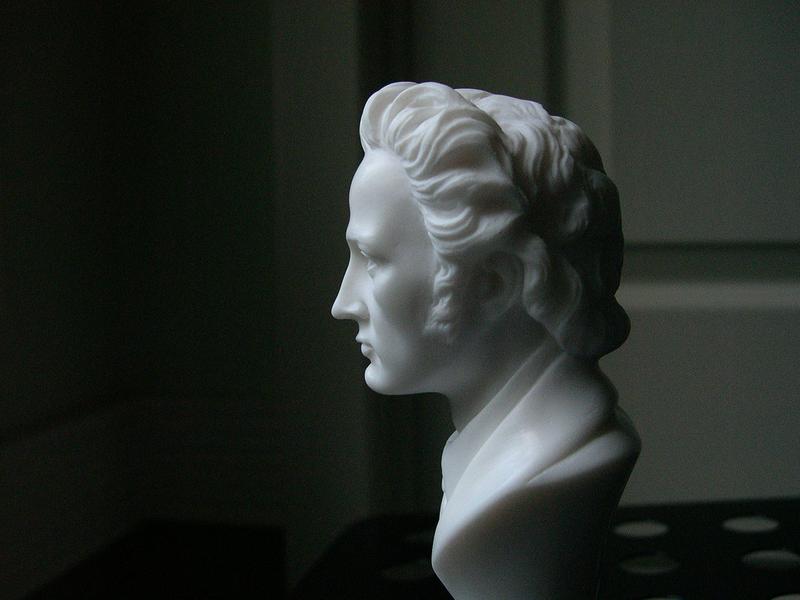 By 1800 the piano had completely replaced the harpsichord; homes were now buying pianos in abundance. The Industrial Revolution had begun and Romanticism needed inflection.
Through manipulation of touch and pressure one could now create tone colors, mixed with the pedals, to be the core of romantic piano music. No one understood the dramatic and poetic powers inherent in the instrument better than Frederic Chopin. Host David Dubal features his music on this edition of The Romantic Piano.
Early in 1837, Chopin fell seriously ill. His pulmonary problems were beginning to badly trouble him. He had been jilted by Maria Wodzińska, and at that same time, Franz Liszt introduced to him a woman of much greater fascination and importance. Her name was George Sand. At first, prim and proper Chopin was repulsed by the notorious cigar smoking, trouser wearing novelist. Lacking traditional feminine qualities, he actually asked Liszt if she was indeed a woman. Chopin and Sand eventually formed a romantic relationship. In November of 1838, the couple spent three months in Majorca, where Chopin completed his 23 preludes in each of the major and minor keys.
The so-called honeymoon for Chopin and Sand proved to be a disaster. The people of Majorca were weary of Chopin's coughing, assuming it to be tuberculosis. And Sand did not attend church, which was seen as a scandal. Chopin, at first, thought the island a paradise, but several weeks later his health worsened and he was unable to enjoy the pleasures of the island.
Sand took great care of Chopin and insisted that he spend five months of the year at her country home in Nohant, France, where he would file and polish his compositions of the winter. Chopin and Sand spent almost nine years together and eventually ended their relationship. This was very unfortunate for Chopin because she protected and nursed the increasingly consumptive and irritable composer while attending to his every whim.
The separation with George Sand and his ill health broke Chopin. His weight dramatically decreased while his coughing became continuous. In the last two and a half years of his life, he only composed a few pages of music. He played his last concert in Paris on February 16, 1848; the year of the French Revolution. 
Legend says that George Sand paid a last-minute visit to him while on his deathbed, however this has not been proven to be true. His funeral was a major event held at the Madeleine Church (L'église de la Madeleine) in Paris. Mozart's Requiem was played at his own request. He was buried at the Paris cemetery, Père Lachaise, and it is said that there has never been a day since his death that flowers have not been placed on his grave.
Playlist:
Etude for Piano, Op. 10: no 4 in C sharp minor, B 74 / Vladimir Horowitz
Waltz for Piano in A flat major, B 131/Op. 42 "Grande Valse" / Josef Hofmann
Prelude for Piano, Op. 28: no 16 in B flat minor / Josef Lhévinne
Prelude for Piano, Op. 28: no 16 in B flat minor / Yuan Sheng
Impromptu for Piano no 4 in C sharp minor, B 87/Op. 66 "Fantaisie-Impromptu" / Samson François
Sonata for Piano no 2 in B flat minor, B 128/Op. 35 "Funeral March": 1st movement / Rexa Han
Waltz for Piano in C sharp minor, Op. 64 no 2 / Sergei Rachmaninov
Etude for Piano, Op. 10: no 9 in F minor / Leo Sirota
Etude for Piano, Op. 10: no 9 in F minor / Maurizio Pollini
Mazurka for Piano, Op. 41: no 1 in C sharp minor / Ignaz Friedman
Waltz for Piano, B 164/Op. 64: no 1 in D flat major "Minute Waltz" / Artur Rubinstein
Waltz for Piano, B 164/Op. 64: no 1 in D flat major "Minute Waltz" / Josef Hofmann
Prelude for Piano, Op. 28: no 7 in A major / Víkingur Ólafsson
Prelude for Piano, Op. 28: no 8 in F sharp minor / Víkingur Ólafsson
Prelude for Piano, Op. 28: no 7 in A major / Yuan Sheng
Prelude for Piano, Op. 28: no 8 in F sharp minor / Yuan Sheng
Nocturne for Piano in E flat major, Op. 9 no 2 / Vladimir Horowitz