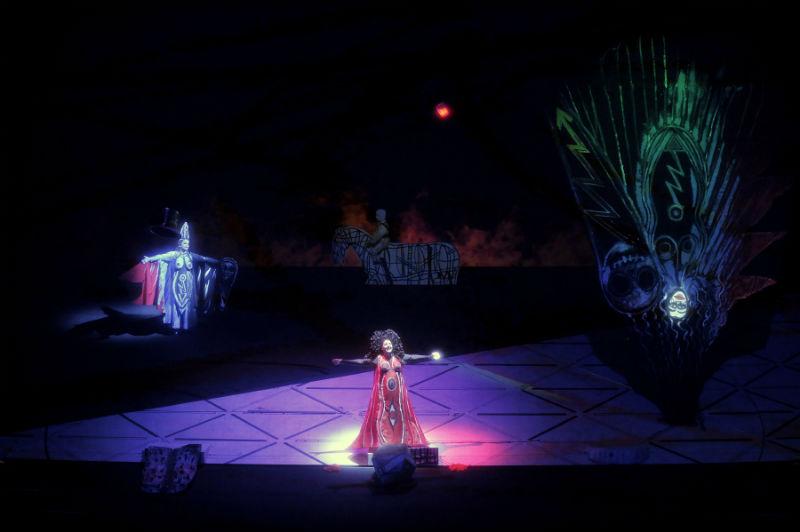 In opera, and not only, sisters are doing it for themselves. It seems that everywhere I look and listen lately, there is a suora, soeur, cесtра or schwester on an operatic stage. I am in the midst of attending my 47th complete Ring Cycle (yes, I know...) and am writing this just after hearing a musically gratifying performance of Die Walküre at the Met. Deborah Voigt has added colors and texture to her Walküre Brünnhilde since I first heard it two years ago. It is always heartening to see an artist who deepens her approach to a role rather then simply repeat what she has already done.
Fabio Luisi and the Met orchestra performed at their customary high levels. There was excellent playing of the strings, horns and percussion, as one would expect, but I also heard some exquisite sounds from the winds, bringing out gorgeous elements in Wagner's score that I had never noticed before. This is one of the many reasons why real opera lovers keep returning to hear masterpieces.
Brünnhilde is, of course, the title character in Die Walküre, but she has eight very vociferous sisters, the Valkyries, whose music is some of the most famous in all of opera. The Ring has other sisters too. There are the Rhinemaidens who splash around at the start of the cycle and show up at the end as they reclaim the gold. 
Then there are the three droopy Norns who weave a pessimistic tale of doom at the start of Götterdämmerung. A very important sister scene, often overlooked, comes in the same opera as Waltraute, one of the few Valkyries with any sense, comes to implore the now mortal Brünnhilde to help save the gods at Valhalla by restoring the ring to the Rhinemaidens. When the Met's current cycle was new, one of its highlights was Waltraud Meier's superb performance of that scene. Here she is in another production, splendidly acted as always. It will be sung on May 11 by Karen Cargill.
There is another sister in Die Walküre, the tragic Sieglinde, who has a brief moment of rapture with her brother Siegmund before he is killed, but goes on to bear his child, Siegfried, before dying herself. Voigt owned the part for a long time and it is now being given a splendid portrayal by the Viennese soprano Martina Serafin in her first role at the Met.
There are many other sisters at the Met this week. There are two more performances (May 7 and 10) of Handel's Giulio Cesare, with Natalie Dessay having a field day as Cleopatra, sister of Tolomeo (Ptolemy). David Daniels has the title role.
Nuns are Sisters too
Many seasoned operagoers consider John Dexter's 1977 staging of Poulenc's Dialogues des Carmélites to be the finest production in the Met repertory. I would not dispute that. Last seen in 2003, it is making a rare and too brief appearance and, if you have never seen it, try to find a way to do so. The remaining performances are on May 9 and 11. The excellent current cast, singing in French, includes Patricia Racette, Isabel Leonard and Felicity Palmer.  Here is a scene, sung in English, from 1987 that includes Maria Ewing and the magnificent Régine Crespin.
Seattle Opera is now presenting an unusual double bill of Poulenc's La Voix Humaine, the solo drama of a woman on a telephone whose lover breaks up with her, with Puccini's Suor Angelica, the other famous "nun opera" about a young woman who takes vows after having given birth to a child she leaves with her imperious aunt. It is a heartbreaking work, my favorite by Puccini, and stars Maria Gavrilova, with Rosalind Plowright as the aunt. Plowright scored a triumph three decades ago as Angelica at La Scala with Gianandrea Gavazzeni conducting and is the rare artist to play both roles.
Queen Dido has a sister, Anna, in Berlioz's Les Troyens who does not always get the attention she deserves. However, Karen Cargill's performance in the Met's revival this past winter remains one of the most positive memories I have of the season that is now concluding.
Sisters fare well, musically at least, with Tchaikovsky. You might know the Tatiana/Olga duet from Eugene Onegin. I think the one for Lisa and Paulina in Queen of Spades is even more beautiful.
Russian literature is full of sisters who might make good opera characters. I know there is an operatic version of Chekhov's The Three Sisters by Peter Eotvos that had its premiere in 1998 and was very well-received, but I have never heard a note of it.
There are few duets more simple but beguiling than "Guarda sorella" from Così fan tutte. In it, Fiordiligi and Dorabella sing about the young men they admire. The story, as told by Mozart and Lorenzo da Ponte, becomes more complex and affecting as Fiordiligi remains steadfast to the man she loves while Dorabella is willing to be seduced by another man (who we, the audience, know is Fiordiligi's fiancé). Ostensibly a mild sex farce, this opera is heartbreaking when performed with care.
Two of my favorite operatic sister acts come from Richard Strauss. In Elektra, Chrysothemis tries to reason with her sister who, as we know, has axes to grind. While the title character is more showy, a good soprano (Leonie Rysanek, Karita Mattila, Voigt) can make a powerful impression as the co-dependent Chrysothemis who says, in effect, "can't we all just get along?"
More delicate, and so very lovely, is the Arabella/Zdenka duet in Arabella. They are sisters in a Viennese family that has had a reversal of fortune. The parents decide that the younger sister should dress as a boy (Zdenko) so that the older one can be married off successfully. But Arabella is unwilling to marry just anyone, preferring to wait for the right man to come along. The sisters' duet, as they both pine for love, is one of the most breathtaking in all of opera. Its beauty and seeming simplicity are astonishing.
Did I leave out any great operatic sister acts? Tell me your favorites in the comments section below.