Historically Black College Choirs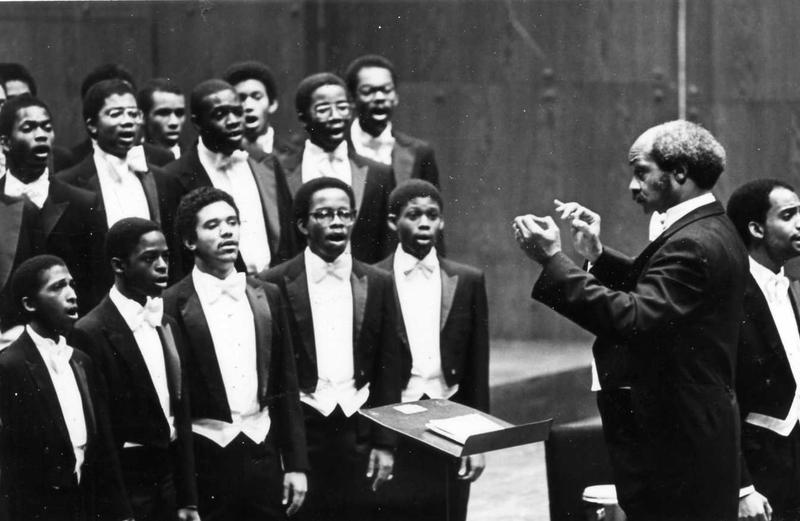 On today's Mix, we honor the African America tradition by sampling some of America's leading college choirs: music from the Tuskegee Institute, Morehouse College, Morgan State University, Rust College and Winston Salem State University. These colleges share a common bond as members of a close-knit fraternity of historically black colleges.
A school famous for its choir is the Tuskegee Institute. Originally a teacher's training school, Booker T. Washington was the founding president and choir director.  As part of the curriculum, Washington insisted everyone sing and learn spirituals. Washington's leadership helped the school and the choir grow. In the 1930s, William L. Dawson directed the choir to prestige. They made appearances for presidents, radio and television specials. Dawson retired in 1970, but came back to record an album with the choir in 1992. From that record, we play some spirituals they are so famous for studying.
Another choir featured on this program is the Winston Salem State University Choir. We play three movements of a cantata called a Journey To Freedom and Honor and Glory, an American Hero John Daniels. The composer Julius Williams is a native New Yorker and is an active conductor, composer and educator.
Marin Alsop leads the Morgan State University Choir, Peabody Children's Chorus, and the Baltimore Symphony Orchestra in a performance of Bernstein's rather radical Mass. The featured baritone is Jubilant Sykes.
The episodes concludes with some traditional spirituals from a classic recording of Leontyne Price singing with the Rust College Choir. Rust College has a strong history with the operatic singer - the Mississippi native donated her time and talents for a benefit concert for the College in Jackson which raised money for a new library. Built in 1967, the archives carries her name.
Playlist:
Spirituals/Tuskegee Institute Choir, William L. Dawson
Ezekiel Saw De Wheel
I want to be Ready
Ain'a That Good News
Riegger/Behold! /The Morehouse College Glee Club, Dr. David Morrow
Evil Shall Not Prevail
arr. Jester Hairston/ Behold! /The Morehouse College Glee Club, Dr. David Morrow
In Dat Great Getting Up Morning
Williams/Somewhere Far Away/ The Winston Salem State University Choir, The Reston Chorale, Dvorak Symphony Orchestra
A Journey to Freedom Honor and Glory, an American Hero John Daniels: Freedom
Bernstein Mass/Morgan State University Choir, Dr Eric Conway, Baltimore Symphony Orchestra
In nomine Patris
Almighty Father
Confiteor
Gloria Tibi
Gloria in Excelsis
"Half of the People"
Thank You
Meditation No.3 (De profundis, Part 1)
Meditation No.3 (De profundis, Part 1)
Rust College & Lassaye Van Buren Holmes, Leontyne Price/ Leontyne Price Sings Spirituals
Let us Cheer the Weary Traveler 
Ev'ry Time I Feel The Spirit 
I Couldn't hear Nobody Pray