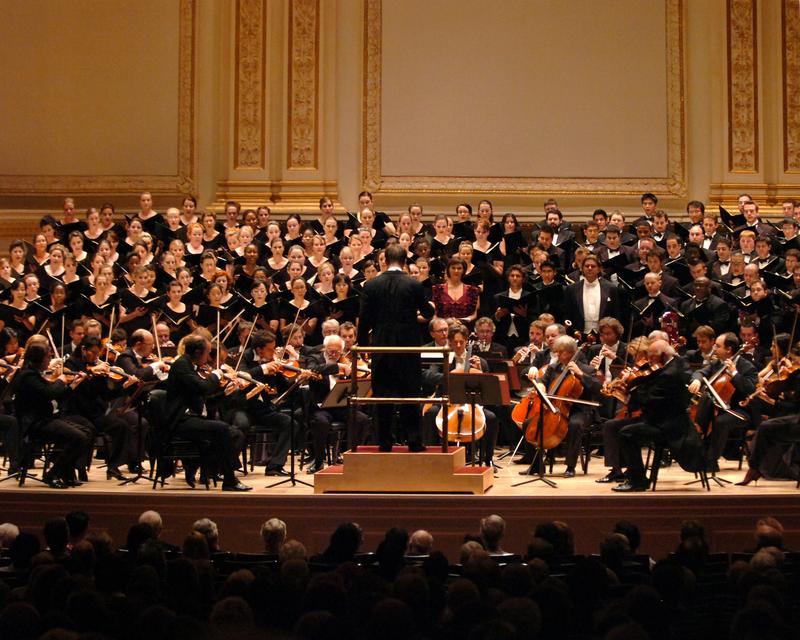 On this season finale of The Choral Mix, we celebrate with a choral hit parade of heavy hitting works from Mahler, Handel, and Bruckner.
Three of Mahler's nine symphonies contain choral music. They are considered some of the most demanding works in the choral repertoire because in order to match the dynamic contrast and spectrum put out by the orchestra, a large, highly skilled chorus is required. We feature a portion of the first movement, Veni Creator Spiritus – Come Holy Spirit, of Symphony No. 8, Mahler's "Symphony of a Thousand." The New York Philharmonic and that intrepid Mahler interpreter Leonard Bernstein leading the Julliard Chorus Westminster Choir and NY Schola Cantorum in a live performance that opened Lincoln Center in 1962.
Thomas Tallis lived in a time when there was one foot in Catholic England and another foot in post-reformation England. One of the greatest works to come out of this time was Tallis's motet Spem in Alium. It's scored for 40 voices divided into 8 different choirs. It's a full, intense texture of grand polyphony. We feature The Sixteen (augmented to become forty) led by Harry Christophers.
Anton Bruckner's music epitomizes German Romanticism at its fullest. It is full of rich harmonies and yet is still very polyphonic, influenced by his love of Bach. On a grander and more heroic scale is Bruckner's Te Deum, scored for orchestra, chorus and soloists. We feature a version with the Vienna Philharmonic and the Bavarian Radio Choir led by Bernard Haitink.
Others on the program include Handel's great Coronation Anthem, Zadok the Priest with Trevor Pinnock leading the Choir of Westminster Abbey and the English Concert as well as William Walton's Coronation Te Deum.
Playlist:
Mahler/ Mahler The Complete Symphonies/Schola Cantorum of New York & Juilliard Chorus, New York Philharmonic, Leonard Bernstein
Veni Creator Spiritus
Tallis/Spem in Alium-Music for Monarchs and Magnates/ The Sixteen, Harry Christophers
Spem in Alium
 Handel/Coronation Anthems/ Choir Of Westminster Abbey, The English Concert, Trevor Pinnock
Zadok the priest
Walton/Walton: Coronation Te Deum/Polyphony, Stephen Layton
Coronation Te Deum
Bruckner/Bruckner: Te Deum
Mahler/ Mahler The Complete Symphonies/The Collegiate Chorale , New York Philharmonic, Leonard Bernstein
Closing Mahler 2 /
Mit Aufschwung, aber nicht eilen
Piu mosso