New York Philharmonic to Spotlight Avant-Garde in 2014 Biennial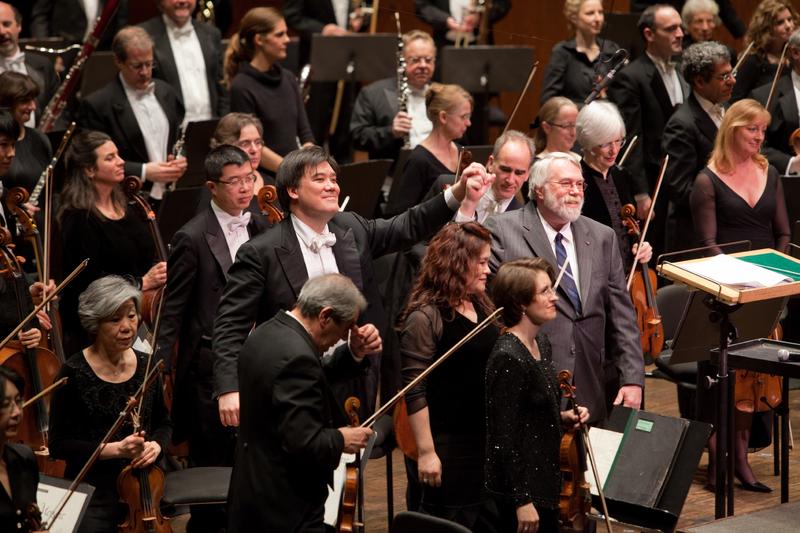 For audiences accustomed to the lighter, friendlier style of contemporary music that is customary these days among American orchestras, the New York Philharmonic's NY Phil Biennial festival may come as a bracing jolt. The orchestra on Wednesday announced new details for the multi-venue festival, which will run from May 29 through June 7, 2014, and focus heavily on the European avant-garde scene.
As previously announced, full orchestra concerts in Avery Fisher Hall are just one part of the festival. Alan Gilbert will conduct Christopher Rouse's Symphony No. 4 as well as the local premiere of DoReMi by Hungarian modernist composer Peter Eötvös, featuring violinist Midori (June 5 and 7). On June 6, Mattias Pintscher leads the orchestra in his cello concerto Reflections on Narcissus (featuring Alisa Weilerstein) and Elliott Carter's Instances.
Taking a page from Carnegie Hall's recent city-wide festivals, the biennial will extend to other arts groups in New York, including the Orchestra of St. Luke's, which will present two concerts at the Rose Theater at Lincoln Center. The first concert will be dedicated to Pierre Boulez and his disciples (May 31), and the second spotlights George Benjamin and his circle of craggy English modernists (June 1). Pablo Heras-Casado will conduct both programs.
Gotham Chamber Opera will give the US premieres of Toshio Hosokawa's The Raven and André Caplet's Conte fantastique; the Museum of Modern Art will host "Beyond Recall," a concert of 11 recent works by international composers led by Pintscher; the American Composers Orchestra will present its 23rd annual new-music readings; and students from Kaufman Music Center's Special Music High School will premiere works by student composers.
Although Minimalist, neo-Romantic and downtown styles appear to be relatively scarce, the festival will include the genre-straddling Bang on a Can All-Stars, which will give local premieres of Julia Wolfe's Anthracite Fields, about a Pennsylvania coal minor, and Steven Mackey's oratorio Dreamhouse. The latter features baritone Rinde Eckert in a work that was "written during a time of post-9/11 introspection as a meditation on the American Dream," according to the composer.
The Philharmonic also announced Wednesday that it is expanding its annual new music series, Contact!, to five concerts, three of which will occur at SubCulture, a new Bleeker Street nightclub, co-presented with the 92nd St. Y.
The Philharmonic says the NY Phil Biennial will recur every two years.