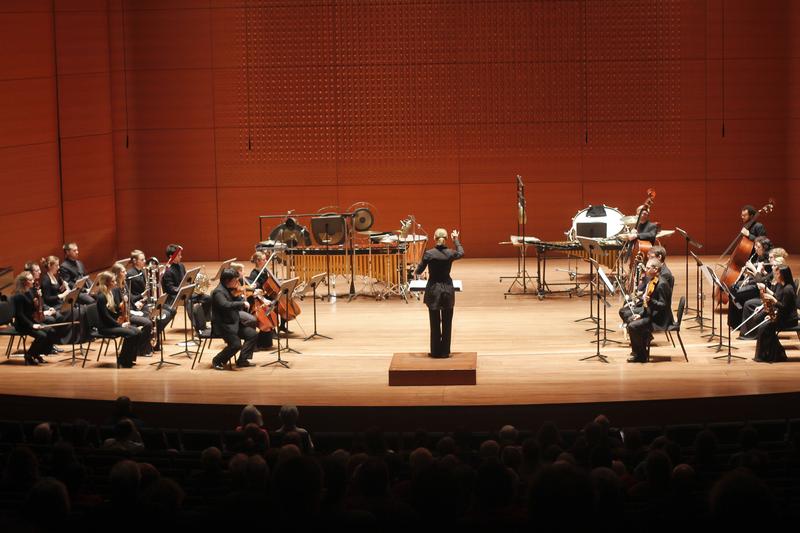 On March 28, the Juilliard School's new-music ensemble, AXIOM, partnered with members of the Sibelius Academy in Helsinki to present a concert highlighting music of American and Finnish origin. Led by conductor Susanna Mälkki, music director of the Ensemble Intercontemporain, the concert was part of an exchange program that will also send Juilliard musicians to Helsinki this August. 
The concert included a work Juilliard alumni Sean Shepherd, a Nevada-born composer who describes his work, Blur, as "a kind of romp: ebullient, frenetic, insistent and joyful;" and Mood: Stereophonic Music by Jukka Tiensuu, a prominent voice in contemporary Finnish culture, known as a composer, conductor, pianist and music festival director (Helsinki Biennale, Time of Music Festival). 
Also featured on the program were Dystemporal by Rome Prize-winner Anthony Cheung, who explains his work's title as referencing the
"disorienting and distorted way in which time is manipulated and perceived in the work," and Mure by Sibelius Academy composition professor Veli-Matti Puumula.
Complete Program:
Sean Shepherd: Blur
Veli-Matti Puumula: Mure
Jukka Tiensuu: Mood: Stereophonic Music
Anthony Cheung: Dystemporal
This audio is no longer available.