The Romantics: A One Track Mind
Thursday, June 27, 2013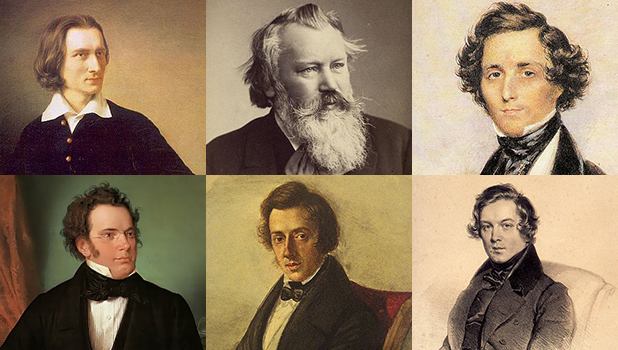 (Wikipedia Commons)
This series is dedicated to the great romantic composers of the piano — Franz Schubert, Felix Mendelssohn, Frédéric Chopin, Robert Schumann, Franz Liszt and Johannes Brahms. Each of these composers made the piano the center of their compositional worlds. On the Season Finale of The Romantic Piano, David Dubal features works from all six of these influential composers, showcasing their connections to each other.
Pianist, teacher and author David Dubal hosts a weekly exploration of classical music's piano greats.

More
Paganini had an incredible influence and effect on all six of our romantic composers and because of this he is the spiritual father of romantic virtuosity. Schubert was the first to hear the great violinist in Vienna in 1828. It was the first city that Paganini conquered. Mendelssohn heard him in Berlin and was stunned, and then Chopin in 1829 in Warsaw.
Liszt heard all 10 recitals that Paganini gave in Paris and took notes. Schumann became breathless with excitement when he heard him in Leipzig, so much so that he began to transcribe his caprices just as Liszt was doing in Paris. Schumann was so impressed that he recreated Paganini's violinistic playing in his great Carnivale by way of one minute's worth of piano writing.
Besides Paganini, all six of these romantic composers had a strong bond, and all knew one another except for Schubert; he had died just a bit too early for camaraderie. However, later, Liszt became Schubert's true champion. He edited Schubert's piano sonatas and transcribed 55 of his songs. 
Playlist:
Mendelssohn, Felix: On the Wings of Song (Auf Flügeln des Gesanges) / Michael Levin
Chopin, Frédéric: Souvenir de Paganini / Vladimir Ashkenazy
Schumann, Robert: Carnaval, Op. 9 / Daniel Pollack
Brahms, Johannes - Paganini, Niccolò: Variation for Piano on a theme by Paganini, Op. 35 / Evgeni Kissin
Liszt, Franz: Transcendental Etude No. 1 for Piano, S 139 / György "George" Cziffra
Liszt, Franz: Nuages gris for Piano, S 199 / Sviatoslav Richter
Schubert, Franz - Liszt, Franz: Serenade / Vladimir Horowitz
Mendelssohn, Felix: Songs without words, vol 4, Op. 53, No. 5, Volkslied "Folksong" / Daniel Barenboim
Schumann, Robert: Intermezzo from Humoreske for Piano in B flat major, Op. 20 / Vladimir Horowitz
Brahms, Johannes: First Movement, Sonata for Piano no 2 in F sharp minor, Op. 2 / Hélène Grimaud
Chopin, Frédéric: Prelude for Piano, Op. 28: no 20 in C minor / Alfred Cortot
Schubert, Franz: Scherzo from Sonata for Piano in B major, D 575/Op. posth / Klára Würtz
Brahms, Johannes - Cortot, Alfred: Cradle Song, Op. 49, No. 4 "Wiegenlied" / Alfred Cortot
The WQXR e-newsletter. Show highlights, links to music news, on-demand concerts, events from The Greene Space and more.