In Memoriam: Alida Ferrarini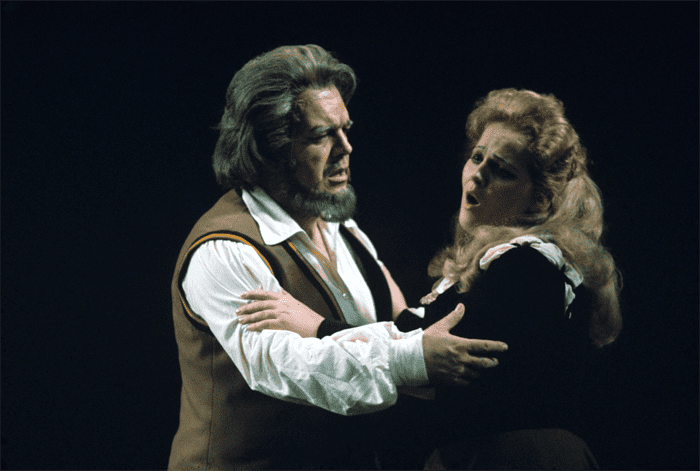 One of the responsibilities that comes with my passion for opera is that people expect that I have answers for every question on the topic. I do not, of course, though I enjoy learning more every day. One thing I did know, a few years ago, was the soprano voice I heard singing Gilda's aria, "Caro Nome," from Rigoletto, in the soundtrack of Woody Allen's film "Match Point." While attending the film with a friend, and anticipating the question, I leaned over and whispered, "That's Alida Ferrarini."
Who? Alida Ferrarini is not a voice from the distant past, but a lovely soprano whom I heard often as a young man in Italy. To me, she was one of the most idiomatic interpreters of the light soprano repertory, mostly in Italian, that included forays into a few heavier roles she chose and sang with care.
I have learned, through contacts in Italy, that Ferrarini died in the last week of June at the age of 67. This news did not appear in Italian media until after I wrote this article. The only notice I saw was in L'Arena, the Verona paper that covers news of the nearby small town of Villafranca where she was born and lived.
Ferrarini made her debut, quite young, as Mimì, in La Bohème, in 1974 in Bergamo. In the same year, she won the prestigious Toti dal Monte competition in Treviso and offers began to arrive from regional Italian theaters. I was a student in Bologna, starting in 1975, and Ferrarini was a popular singer in opera houses I frequented. I heard her often and she was, on many occasions, the first performer I heard live in iconic roles.
Her repertory grew gradually in the 1970s and came to include Amina (La Sonnambula); Giulietta (I Capuleti e i Montecchi); Lauretta (Gianni Schicchi); Nannetta (Falstaff); Lucia di Lammermoor; Norina (Don Pasquale); and Oscar (Un Ballo in Maschera). The roles she was most known for were Adina in L'Elisir d'Amore, Gilda in Rigoletto, Liù in Turandot and Micaela in Carmen.
Ferrarini was an idiomatic and charming Adina who was a good match for Luciano Pavarotti's Nemorino. Her innate musicality, beautiful phrasing in the Italian language, and a stage persona—by turns clever and wistfully shy—was endearing. She said Pavarotti was the tenor she performed with the most. She made her La Scala debut on February 27, 1979 as Adina, a last-minute replacement for Mirella Freni. I was there that evening and recall not only her lovely singing but the degree to which Pavarotti was a supportive and generous colleague who pushed her forward to accept the audience's cheers. He applauded her as well. They appeared together again on March 11, the last performance of the run. After that, she was sought by opera houses abroad.
Her Gilda was a calling card to major opera houses throughout Europe. I heard her in this role several times. I think the first one was in Genoa in about 1983, with Leo Nucci as Rigoletto. I subsequently heard her Gilda at the Paris Opera and at Covent Garden in London. Here she is in 1981:
Ferrarini did not confine herself to the famous "-ina" roles usually taken by winsome young sopranos, but also sang Baroque opera, 18th century Italian comedies, a little Mozart, and unusual roles in French and Russian. 
One of her most prominent appearances was as Micaela at La Scala in 1984. In a performance conducted by Claudio Abbado and starring Shirley Verrett, with Plácido Domingo as Don José and Ruggero Raimondi as Escamillo. Ferrarini was very much at the level of her colleagues. This Carmen was telecast on Italy's RAI network and it would be a DVD I could heartily recommend if available.
Here she is as Micaela in Madrid in 1982 and with José Carreras in the first act of the same production. These videos are drawn from a broadcast on Spanish television and are not the clearest in terms of sound, but still give you a sense of her artistry.
Below is a pirate video with pretty good sound of Ferrarini and Carreras in Lucia di Lammermoor taken, I believe, at the Arena di Verona, near her hometown. As I write this, it occurs to me that Ferrarini sang starring roles with each of the fabled Three Tenors (Carreras, Domingo, Pavarotti), if that credential represents any kind of seal of approval.
Liù in Turandot took her far and wide in major European theaters, as well as to Buenos Aires, Sydney and Tokyo. She debuted her Lucia, to great ovations, in Bordeaux and received a nickname that was a pun on the name of a famous Verdi aria: Celeste Alida.
Ferrarini sang Adina at the San Francisco Opera in the early 1980s but, otherwise, I don't know of any appearances she made in North America, which is unfortunate. At the time of her international ascent, I was already working at the Met. There were good sopranos in her repertory appearing there. Liù was sung by Leona Mitchell and Aprile Millo. Micaela was Catherine Malfitano or Mitchell. It was an era at the Met in which the "-ina" bel canto repertory was not done often and, when it was, the role was often sung by Judith Blegen, Kathleen Battle or Dawn Upshaw. But I am sorry Met audiences did not have the joy of hearing Alida Ferrarini.
Her performances were always about service to the music, the words, the composer, the conductor, her fellow cast members, and the audience.  She was a true colleague, not passive or submissive, but devoted to contributing to the larger whole. Her singing, based on a very secure technique, always felt like musical speech by someone entirely at home in the languages of music and Italian.
In thinking and writing about Ferrarini here, I realize that she was not a capital D Diva or a capital P-D Prima Donna. Instead, she was an Artist. This category has been somewhat eclipsed in our celebrity-driven, mega-bling times, which is a shame. I confess that for every diva and prima donna I have enjoyed, I have equally warm memories of the many artists who generously gave themselves to the music and the audience. They did not play the opera industry career game, with its many compromises. They lived for art.
It was a topic of discussion among her admirers why she vanished so suddenly from the scene around the year 2000. Her voice was still its crystalline self, beautifully conserved. All of her attributes as a performer and colleague were intact. It seemed as if changes in the opera business sought superficial attributes—the bling—that she did not possess. Almost from one day to the next, she withdrew from the scene, returned to Villafranca, and became an admired teacher. What a waste this trend has been to discard valuable artists who still have so much to give! We see this even more now than a decade ago.
I regret that the death of Alida Ferrarini has not attracted more notice. This is the passing not only of a dear artist but of the kind of values regarding work, art and integrity that are becoming nearly extinct.