Top Five Visions of America in Classical Music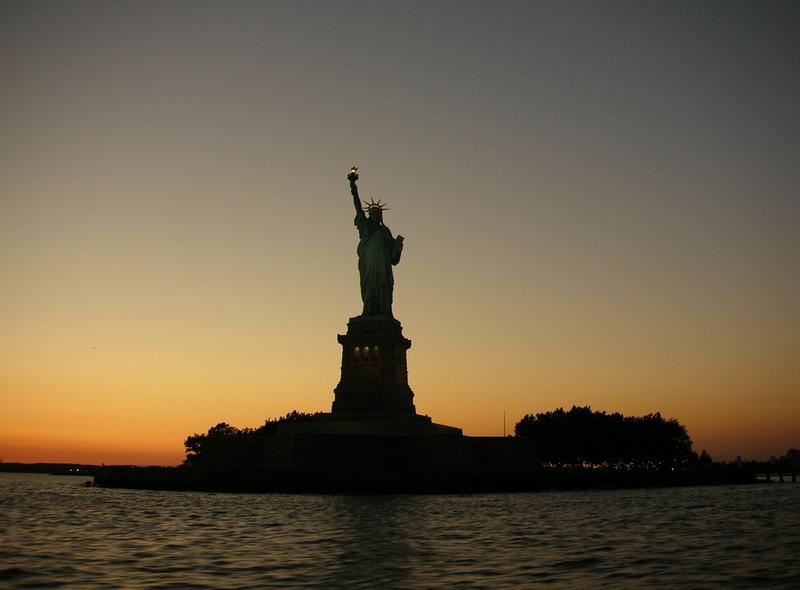 In honor of our nation's birthday, we present five pieces of classical music that are both American in sound and in subject matter.
1. Charles Ives: Fourth Symphony
Carnegie Hall called Charles Ives the George Washington of American composers, as he was among the first U.S.-based composers to create music that was independent from European traditions. That said, much of Ives's work quotes precise sounds and scenes from Americana—a football game, a holiday celebration, life in a small New England town, His Fourth Symphony, often considered his masterpiece, is no different, weaving together myriad influences from American culture and daily life. References to Nathanial Hawthorne, Pilgrim's Progress, July 4th, ragtime, "Turkey in the Straw," and Yankee Doodle all come in an out of focus as Ives's patches together a soundscape of the American experience.
• Listen to the Detroit Symphony play Ives's Fourth at the Spring for Music Festival
2. John Alden Carpenter: Skyscrapers: A Ballet of Modern Life
While cattle ranches and open prairies inspired composers such as Aaron Copland, modern cities with their engineering marvels moved others. The later are present in Skyscrapers: A Ballet of Modern Life by the American composer John Alden Carpenter. Commissioned by Serge Diaghilev but never performed by the Ballets Russe, Skyscrapers premiered at the Metropolitan Opera in 1926. Carpenter's piece incorporated the sounds of the Jazz Age and the contemporary American city. With New York as its model, the piece depicts scenes of the busy city streets, amusements on Coney Island and seedy vaudeville theaters.
3. Elliott Carter: A Symphony for Three Orchestras
Music writers often said that late Elliott Carter composed European music: intellectual and sophisticated in style, and undoubtedly influenced by his French teacher Nadia Boulanger. But Carter could also write distinctly American music such as in A Symphony for Three Orchestras. Based on the poem The Bridge by Hart Crane, the work was written in honor of the American Bicentennial. The orchestra is split into three distinct groups, and all three eventual coalesce to create one cohesive piece: an idea that Matthew Guerrieri, writing in the Boston Globe, proposed may have been inspired by the United States' three branches of government. In his obituary of Carter in The Guardian, Ivan Hewett wrote, "this piece evokes all the conflicting energies of America."


4. William Grant Still: Afro-American Symphony
William Grant Still and his Afro-American Symphony inserted frequently neglected black culture into American classical music. When the Rochester Philharmonic premiered the work in 1931, it marked the first time that an American orchestra played a piece by a black composer. The symphony introduced an African-American vernacular taken from the blues, jazz, and spiritual music into the classical concert hall, providing a multicultural rendering of American music.
5. Virgil Thomson and Gertrude Stein: The Mother of Us All
The opera The Mother of Us All by Virgil Thomson and Gertrude Stein has been called the most American of all operas by no less than the critics Andrew Porter (The New Yorker), Anthony Tommasini (the New York Times), and Mark Swed (the Los Angeles Times). About American suffragette Susan B. Anthony, the opera surrounds the protagonist with a number of notable countrymen and women— John Adams, Ulysses S. Grant, and Lillian Russell—and narrators Virgil T. and Gertrude S. Though the narrative isn't a faithful retelling of American history, it does celebrate the American spirit through Anthony's crusade for women's rights and Thomson's score, which borrows liberally from parlor songs and church hymns.
Weigh in: What classical pieces are quintessentially American to you? Should they evoke skyscrapers and open plains? Or more abstract ideals? Leave your comments below.