American Original: A Salute to Louis Moreau Gottschalk
Thursday, July 04, 2013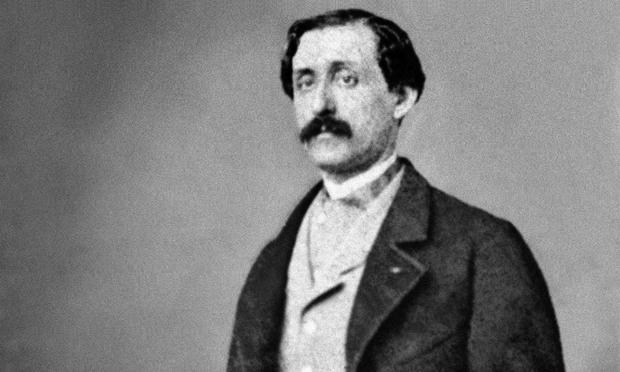 (Library of Congress Prints and Photographs Division. Brady-Handy Photograph Collection/Wikipedia Commons)
Pianist, teacher and author David Dubal hosts a weekly exploration of classical music's piano greats.

More
Editor's Note: This episode originally aired in July 2013.
The Fourth of July provides an ideal opportunity to focus on the adventurous life and music of American pianist and composer, Louis Moreau Gottschalk. As a concert pianist, Gottschalk was a troubadour of the piano, roaming three continents, as well as Puerto Rico, Cuba and all of the West Indies. He was America's great popularizer of the piano. His music is considered to be a treasure of the romantic piano literature.
Gottschalk was born on May 8, 1829, in the lush and exotic city of New Orleans, where he spent his first 13 years. He lived near the Congo Square, now called Louis Armstrong Park. There he absorbed the African, Caribbean and Creole music he heard when the slaves were permitted to congregate at certain times. Gottschalk adored his native New Orleans, but despised slavery.
He left for Paris at 13, hoping to study at the celebrated Paris Conservatoire. But its director, Pierre Zimmermann would not even hear him. "America," he piped, "is a land of steam engines, not musicians — go back home and become a mechanic."
Gottschalk worked privately with Camille Stamaty, Saint-Saëns's teacher, who in 1845 arranged for him to play a private concert. Who was attending that concert? No less than Berlioz, Rossini and Chopin. The major piece was Gottschalk performing the Polish master's first concerto. The Pole embraced the young American, telling him, supposedly, "you will be a king among pianists."
Gottschalk returned to the U.S. in 1853 to begin performing in New York. It proved to be very lucrative and he embarked on a four-year extensive tour, becoming quite popular.
In 1857, he disappeared from American view to pursue a more relaxed way of living and composing in Cuba, Puerto Rico and the West Indies. By 1861, he returned to the U.S. in time for the Civil War. As a Southerner, he proclaimed his Union sympathies and began a nonstop tour of the North, which was extended to the West and Canada. He lived his last few years playing in almost every country of South America. He is buried in Green-Wood Cemetery in Brooklyn (pictured at right).
Program playlist:
Gottschalk, Louis Moreau: Manchega, RO 143/Op. 3 / Alan Feinberg
Gottschalk, Louis Moreau: La Savane, ballade créole for piano, Op. 3, D. 135 (RO 232) / Michael Lewin
Gottschalk, Louis Moreau: Le Banjo, esquisse américaine for piano, Op. 15, D. 15 (RO 22) / Arthur Friedheim
Gottschalk, Louis Moreau: Tournament Galop, RO 264 / David Dubal
Gottschalk, Louis Moreau: Souvenir de Porto Rico, RO 250/Op. 31 "Marche de Gibaros" / Ivan Davis
Gottschalk, Louis Moreau: Battle cry of freedom, RO 62/Op. 55 / Alan Mandel
Gottschalk, Louis Moreau: Tremelo, RO 265/Op. 58 / Cecile Licad
Gottschalk, Louis Moreau: Pasquinade, RO 189/Op. 59 / Stanley Waldoff
Gottschalk, Louis Moreau: Union, RO 269/Op. 48 / Cecile Licad
The WQXR e-newsletter. Show highlights, links to music news, on-demand concerts, events from The Greene Space and more.