Happy Being Alone...Sometimes
This episode originally aired on July 21, 2012
Saturday, July 13, 2013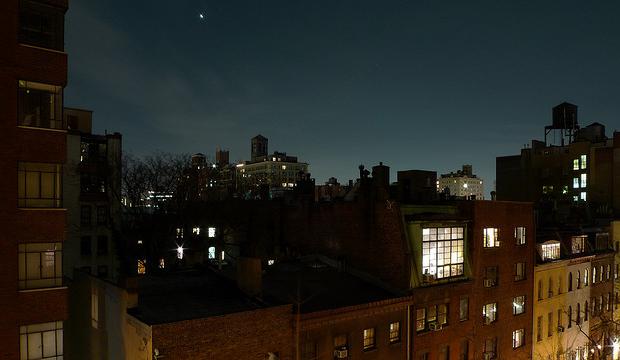 (flickr/emry)
Half of Manhattan residents live alone, a fact that was highlighted by the mayor's invitation last year to developers to design a "micro apartment" no bigger than 300 square feet. 
Even so, most people thrive on some form of community, and the music on this show celebrates partnerships and togetherness. There's a wedding song, a tribute to marriage and words spoken from a crowded New York prison cell.
If you live alone by choice then this show celebrates that impulse through the lens of relationships, marriage and sounds associated with having others in your space. Host Terrance McKnight revels in both worlds; perhaps it's balancing the two that's most healthy.
Playlist
Greg Pliska: Wedding Song
Gowanus Radio Orchestra
Pliska


Tomasso Albinoni: Adagio for Strings in G Minor
Orpheus  Chamber Orchestra
Deutsche Grammophone
Frederick Rzewski-Coming Together
Eighth Blackbird
Cedille
Traditional- Let Us Break Bread Together
Royal Philharmonic Orchestra; Sir Alexander Gibson, conductor; Jessye Norman, Soprano;
Philips
Patrick Burke- All Together Now
NOW Ensemble
New Amsterdam
Englebert Humperdinck: Marriage Against Their Will Overture No. 2
Bamberg Symphony; Karl Anton Rickenbacher, conductor
Koch
Maurice Ravel: Sonata for Violin and Cello
Nigel Kennedy, Violin; Lynn Harrell, Cello
Angel/EMI
Aaron Copland: Old American Songs: The Boatman's Dance
National Gallery Vocal Ensemble
Koch International
Igor Stravinsky:  Les Noces (The Wedding)
Slovak Philharmonic Chorus; Eotvos, conductor
Hungaroton
Terry Riley: The Cusp of Magic: Royal Wedding
Kronos Quartet; Wu Man, pipa
Nonesuch
Judd Greenstein: Folk Music
NOW Ensemble
New Amsterdam
The WQXR e-newsletter. Show highlights, links to music news, on-demand concerts, events from The Greene Space and more.