At Aix-en-Provence Festival, Mediterranean Sunlight and Dark Themes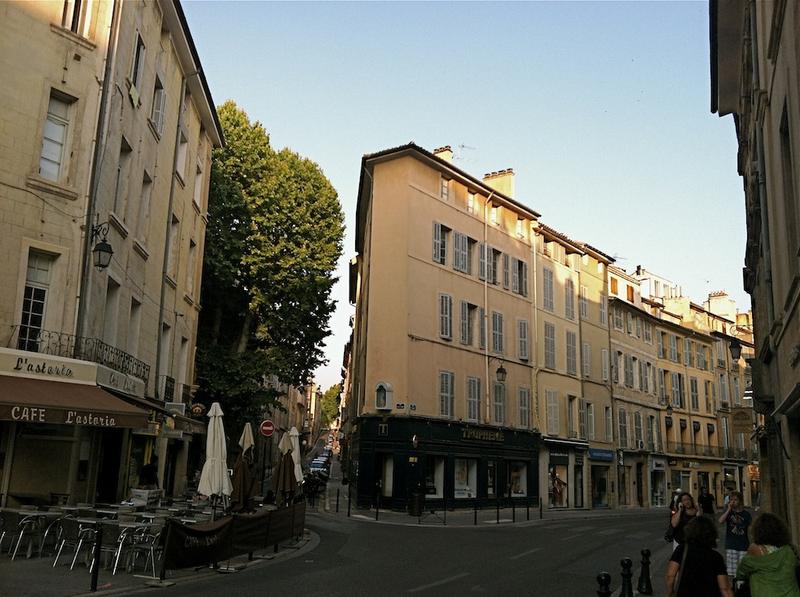 AIX-EN-PROVENCE, FRANCE – Located in a region awash in Roman ruins, medieval hill towns, sun-drenched lavender groves, the Festival of Aix-en-Provence could easily coast along as a picturesque stop on the summer touring circuit for celebrity musicians and their fans. But for its 65th edition, which ended this weekend, festival organizers sought to demonstrate that France's most established music festival has not grown staid and predictable.
The theme of the three-week festival was the Mediterranean, dovetailing with the 2013 European Capital of Culture designation for the nearby port city of Marseille (two cities are given the title every year). Bernard Foccroulle, the festival's director since 2007, noted in an interview that this provided an opportunity to focus its programming on the region. Accordingly, there were operas with Mediterranean settings; late-night folk music concerts from Egypt, Tunisia and Spain; and a round of orchestral and chamber-music concerts.
Stormy Elektra, Verdi at the Circus

A new production of Strauss's Elektra, directed by Patrice Chéreau, was the summer's biggest ticket. The iconoclastic director set this dysfunctional family drama in a spare, claustrophobic courtyard with massive walls and moody lighting. This is the palace where Agamemnon once ruled and where now his wife – his murderer – reigns. Soprano Evelyn Herlitzius gave a fearlessly histrionic performance of Elektra, the King's daughter, barefoot and half mad for revenge. Seen on July 16, she was well-matched by mezzo-soprano Waltraud Meier as Clytemnestra and soprano Adrienne Pieczonka as Chrysothemis. Esa-Pekka Salonen and the Orchestre de Paris sustained the relentlessly intense score in all of its Wagnerian demands. Elektra is due to travel to six other companies including the Metropolitan Opera, in 2015. 
Another major draw was director Robert Carsen's staging of Rigoletto (July 19), which updated the story about the philandering 16th-century Duke of Mantua and his vengeful jester to a seedy circus tent, complete with acrobats, clowns and gyrating strippers. Rigoletto, sung with vocal bravado by baritone George Gagnidze, becomes a Paggliacci-like clown, despondent and removing his makeup in front of the curtain in one early scene. The dark, moody production also featured tenor Arturo Chacón-Cruz as the Duke and soprano Irina Lungu as Gilda (singing "Caro nome" while perched on a trapeze high above the stage). Gianandrea Noseda led the London Symphony Orchestra in the open-air Théâtre de l'Archevêché.
Rigoletto is a co-production of the Opéra National du Rhin in Strasbourg; La Monnaie in Brussels, the Bolshoi Theater in Moscow and the Grand Théâtre in Geneva.  
This year also saw the recovery of a lost opera, Francesco Cavalli's Elena, which was created for the 1659 Venice carnival and has apparently never been performed since. The long (nearly four-hour) work is a kind of prequel to the story of Helen of Troy. It features plenty of misunderstandings, and zany gender confusion which director Jean-Yves Ruf brought out in several cross-dressing countertenors. The score also has some tuneful arias and duets, carried off gamely by the 13-member cast led by the versatile soprano Emöke Baráth as Elena.
Elena will travel to five other regional opera houses – Lisbon, Montpellier, Lille, Angers and Rennes – as part of Aix's focus on co-producing operas with partner companies. When asked about this strategy, and whether there's a danger it can result in a sameness across the opera landscape, Foccroulle demurs. "When we have a production we pretty much believe in, why shouldn't we share it with other cities, other audiences?" he said.
Co-productions not only help defer costs but also support new works and productions that otherwise might see a premature death, the director added. He pointed to George Benjamin's Written on Skin, an opera that premiered at Aix last summer and traveled on to several other venues including Tanglewood, where it will be presented on Aug. 12. "Every city gives something of their soul to the piece," Foccroulle said. "It's exactly what should have happened in the last half-century and didn't happen enough. There were so many contemporary operas that were created and performed in the same city and then forgotten."
Orchestras Salute Britten and Wagner

Along with serving as the pit band for Rigoletto, the London Symphony Orchestra gave a concert in the modern (if somewhat sparsely air-conditioned) Grand Theatre du Provence on July 17, paying tribute to the Benjamin Britten centenary with performances of his Four Sea Interludes, Sinfonia Da Requiem and Serenade for tenor, horn and strings, the latter with tenor Ian Bostridge and horn player Christopher Parkes. In these works, and in Shostakovich's Symphony No. 6, the orchestra played with incisive, brassy brilliance, led by Noseda who seemed to leap, lunge and cavort through much of the Shostakovich.
The following night the Orchestre de Paris, its men outfitted in chic Pierre Cardin Nehru jackets, honored the 200th anniversary of Wagner's birth with preludes and scenes from his operas Tristan und Isolde, Die Walkure and Die Meistersinger von Nuremberg. Rene Pape was the bass soloist, bringing a stentorian voice to what was a rather dark and brooding evening. The audience ate it up, prompting repeat curtain calls by Pape and music director Esa-Pekka Salonen. A fleet and transparent account of Beethoven's Seventh Symphony opened the evening.
Théâtre de l'Archevêché
The Festival of Aix-en-Provence is shorter than European counterpart festivals like Salzburg, the BBC Proms or Glyndebourne but its agenda is tightly packed, with nightly events across several stages and and an adjunct training academy for college-age musicians. Foccroulle noted that funding for the festival has remained consistent despite the economic malaise plaguing France. Even so, he adds that the festival is trying to cultivate American-style corporate and individual donors in order to supplement longstanding government support.
The Festival has also been distributing select opera productions for free through on-demand Internet video streaming and in movie theater transmissions across France. This summer's Rigoletto and Elektra performances are being web-streamed via Arte Live Web for four-month periods. Streaming brings the festival's offerings to an international audience that would not otherwise make it to the south of France, added Foccroulle. "We have to always find new ways to give access to opera," he said. "It's very complex and very fragile."
Below is the full video of Rigoletto: