Top Five Most Disruptive Five Natural Disasters in Classical Music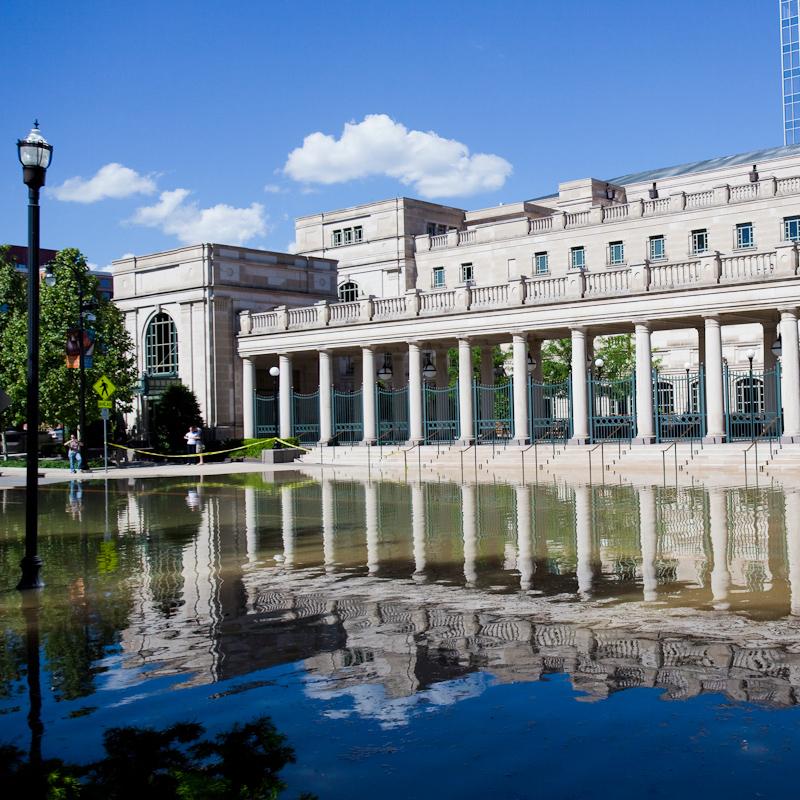 This summer's record heat waves wreaked havoc among outdoor concert schedules. The New York Philharmonic cut its program in the Bronx, a soloist with the Philadelphia Orchestra was reduced to tears, and the Staatskapelle Berlin merely sweated through its Proms appearance as London temperatures eclipsed 90 degrees. But even when concerts are indoors, Mother Nature can wreak havoc on a season. Here are our top five most disruptive natural disasters in recent memory:
1. Carnegie Hall and the Dangling Crane
Just about 10 months ago, Hurricane Sandy blew into town flooding whole neighborhoods, knocking out power across the city and cancelling performances around town. Practically no venue was untouched. Luckily Bargemusic, the floating venue on the East River, which seemed most vulnerable, survived intact. Carnegie Hall also remained in one piece, but it was forced to cancel events from Oct. 28 through Nov. 7, 2012 until a broken crane, dangling precariously over 57th Street, was dismantled.
2. Nashville Symphony Gets Flooded
Rampant flooding along the Cumberland River in May 2010 caused extensive damages among Nashville's concert halls. The stage of the Grand Ole Opry was four feet below water at the peak of the flood, and the Schermerhorn Symphony Center, where the Nashville Symphony suffered the loss of two Steinway pianos, the console of its $2.5 million organ, which had been installed only three years earlier, and a total of $42 million in damages.
3. Iceland's Troublesome Volcano
Concerts schedules the world were thrown into disarray in 2010, when Iceland's Eyjafjallajokull Volcano erupted, spewing ash and interrupting flight travel across northeastern Europe. Neither Lincoln Center nor Carnegie Hall was spared, having to cancel programs without a way to bring stranded musicians back to the states. Meanwhile, Kent Nagano was unable to make his conducting date in Ottawa, causing Pinchas Zuckerman to step in.
4. Tokyo Concert Hall Gets Rattled
This past April, the Musa Kawasaki Symphony Hall, home to the Tokyo Symphony Orchestra, reopened more than two years after an 8.9 earthquake rattled away much of the ceiling. The clean up and restoration included installing a new roof, which can withstand an earthquake measuring a seven on the Richter scale while not sacrificing the hall's acoustics.
5. A Snowstorm Recital in Cleveland
Though it's smack dab in the middle of lake-effect snow country, the Cleveland Orchestra had not canceled a concert at Severance Hall in 30 years until a blizzard forced the organization to scratch a performance of Das Lied von der Erde with Jonas Kaufmann and Christopher Maltman in 2008. However, 40 patrons, who hadn't gotten the cancellation message, still showed up. Rather than turning away these hard-core music lovers, the Symphony gave them dinner, free parking and an intimate recital of lieder by Kaufmann and Christopher Maltman in the smaller Reinberger Chamber Hall. "It was one of the greatest performances I've ever seen," said Franz Welser-Möst.
Weigh in: What was the worst concert disruption you've ever experienced due to Mother Nature?
Volcano photo by Emmanuel Dunand /AFP/Getty Images