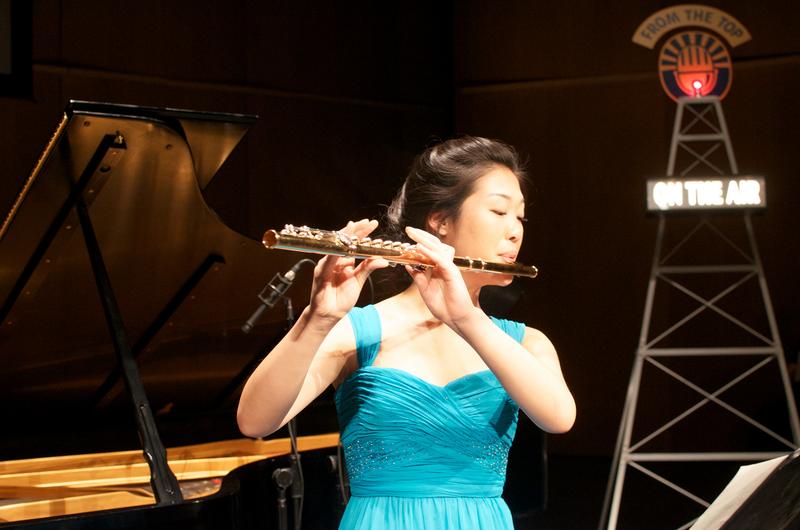 This week, From the Top comes to you from the Robert and Margaret Mondavi Performing Arts Center at the University of California Davis, where you'll meet an array of award-winning young musicians, including a 17-year-old guitarist who plays Chopin and a 16-year-old flutist who beatboxes on her flute. You'll also meet a 15-year-old pianist who plays Johann Strauss, a trio who plays Astor Piazzolla, and an 11-year-old violinist who performs Sarasate's Zigeunerweisen.
Program details:
Violinist Alex Zhou, 12, from San Jose, Calif., performs Zigeunerweisen, Op.20 by Pablo de Sarasate.
Flutist Annie Wu, 16, from Pleasanton, Calif., performs Duo for Flute and Piano, III. Lively, With Bounce by Aaron Copland.
Flutist Annie Wu performs the 3rd Beat from Three Beats for Beat Box Flute by Greg Pattillo.
Guitarist Alec Holcomb, 17, from Franklin, Tenn., performs the Prelude No.15 in D-flat major, Op.28, "Raindrop" by Frédéric Chopin, transcribed by József Eötvös.
Pianist Phoebe Pan, 15, from Irvine, Calif., performs "Soirée de Vienne", Concert Paraphrase on Die Fledermaus by Johann Strauss, Op.56 by Alfred Grünfeld.
The Angeles Trio (violinist and Jack Kent Cooke Young Artist Kristina Zlatareva, 19; cellist Ji Sun Jung, 18; and pianist Jia Ying Dong, 18, from El Monte, Calif.) of the Colburn School of Music in Los Angeles perform Primavera Porteña from "The 4 Seasons of Beunos Aires" by Astor Piazzolla.