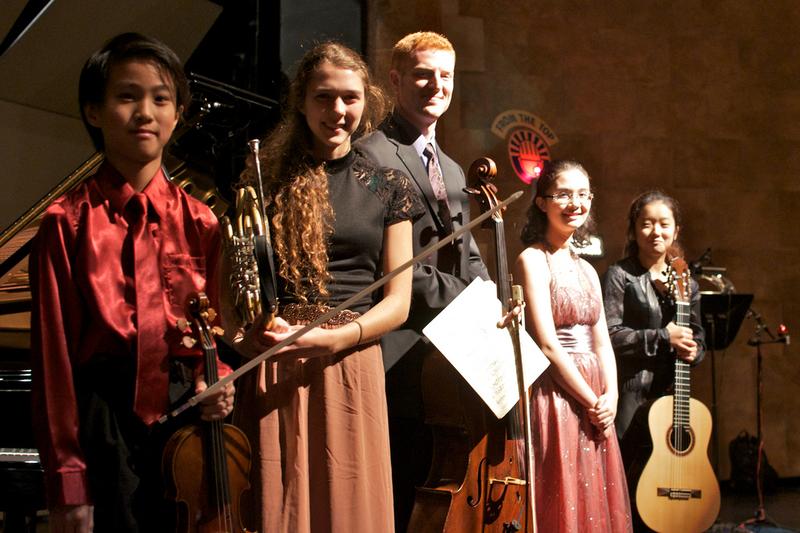 This week, From the Top comes to you from the Sarasota Opera House in Sarasota, Fla., where we'll hear an 11-year-old violinist who loves to contemplate the cosmos, a 17-year-old horn player whose practice regimen has inspired a new word, and a young pianist who sleeps with her eyes open. We'll also hear an outstanding 14-year-old guitarist perform the music of the great Augustin Barrios.
Program details:
Pianist Nadia Azzi, 14, from Palm Harbor, Fla., performs the Sonata No.2 in G minor, Op.22, I. So rasch wie möglich, by Robert Schumann.
French horn player Kaitlyn Resler, 16, from Clearwater, Fla., performs Nocturno, Op.7 by Franz Strauss.
Alumni feature: Cellist Abraham Feder, originally from Chicago and now in Sarasota, performs Sonata No.2 in F major for Cello and Piano, Op.99 by Johannes Brahms.
Guitarist and Jack Kent Cooke Young Artist Jennifer Kim, 14, from Cypress, Calif., performs Un Sueño en la Floresta by Agustín Barrios Mangoré.
Violinist Kevin Zhu, 12, from Cupertino, Calif., performs Carmen Fantasie by Franz Waxman.