Newly-Published Letters Portray Leonard Bernstein's Complex, Colorful Life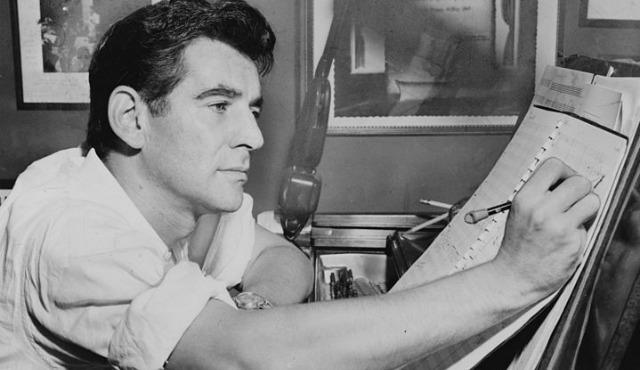 More than 20 years after his death, Leonard Bernstein looms large over classical music, remembered both for his extroverted conducting style and for his vibrant, culturally omnivorous off-stage persona, documented in countless interviews, TV appearances and public talks.
What the public hasn't seen were the tens of thousands of letters that Bernstein wrote to fellow musicians, authors, film directors, choreographers, business partners and family members. Yale University Press will publish a collection of 650 of them on October 29, edited by Nigel Simeone, a British musicologist and writer who has previously written histories of West Side Story and Olivier Messiaen.
Simeone says that about one third of The Leonard Bernstein Letters consists of correspondence that Bernstein's family had sealed after his death in 1990 but made available in late 2010 through the composer's archives at the Library of Congress.
The letters – both written to and from Bernstein – show a conflicted man who frequently struggled to balance his roles as a conductor and a composer; a devoted father of three who also pursued gay relationships with fellow artists; a beloved international celebrity who was assiduously tracked by the FBI.
"He was a very complicated man," said Simeone in a phone interview before what would have been Bernstein's 95th birthday on Sunday (Aug. 25). "That's one of the really intriguing things to emerge from the letters in general are the contradictions, the self doubt – things you don't associate with the public persona of Bernstein."
Simeone reveals that Bernstein's best-known work, West Side Story, almost didn't happen. A letter from playwright Arthur Laurents to Bernstein in 1949 suggests that the composer threatened to pull out of the project for reasons that are somewhat unclear. "I'm sorry you've decided not to do the show," writes Laurents, who goes on to note that some "hostility had popped up" between the two.
The book doesn't include a response from Bernstein, but it illustrates how by 1955 Bernstein recommitted to the musical, in part through the urging of choreographer Jerome Robbins. Other letters capture the speed and efficiency in which Bernstein and Robbins worked together, particularly on the ballet Fancy Free and the musical On the Town (both from 1944).
Other plans came and went. A 1952 letter from the composer Marc Blitzstein discusses Bernstein's proposal for an opera on the life of Eva (Evita) Peron. In another letter, from 1970, Bernstein approached the director Ingmar Bergman about a collaboration on Wagner's Tristan und Isolde for the 1973 Bayreuth Festival (Bergman got away, and also turned down an invitation to direct the German festival).
Bernstein's decade as music director of the New York Philharmonic has been documented through the orchestra's digital archives, launched in 2011. Simeone brings more to the table: letters detailing Bernstein's efforts to commission works from fellow composers, to encourage Stravinsky to come and conduct the orchestra, and arrange events like Aaron Copland's 60th birthday concert. A regular visitor to the White House during the Kennedy years, he later exchanged several letters with Jacqueline Kennedy after organizing music for Robert Kennedy's funeral.
The book includes other new details on Bernstein's political life. Though never summoned by the House Un-American Activities Committee, he was thwarted when attempting to renew his passport. Simeone includes a sworn affidavit from Aug. 3, 1953 to the State Department that served as a kind of "loyalty oath," providing exhaustive details of all of the organizations of which he had been a member. Bernstein wrote to his brother Burton, and to composer David Diamond, about the humiliation of the episode.
Bernstein's love life was especially complex. Many letters from the 1930s and '40s show his affectionate (and occasionally prickly) relationships with male colleagues including Aaron Copland, David Diamond and clarinetist David Oppenheim. When Bernstein began dating the Chilean-American actress Felicia Montealegre, it took some time for marriage plans to develop; Montealegre wanted an acting career and was clearly torn about being Bernstein's wife.
"You are a homosexual and may never change," Montealegre wrote to Bernstein in one particularly candid letter from early 1952, shortly after they were married. "I am willing to accept you as you are, without being a martyr or sacrificing myself on the L.B. altar."
She continued: "We may have gotten married too soon and yet we needed to get married and we've not made a mistake…In any case my dearest darling ape, let's give it a whirl. There'll be crisis (?) from time to time but that doesn't scare me any more."
Simeone notes that the couple saw their marriage as a kind of experiment. "This was a very uneasy time for Bernstein," he said. "I don't think he knew quite what to feel. He liked the idea of being married to Felicia. But I don't think he really understood what it involved."
"As soon as the kids came along, that changed a lot," Simeone added, pointing to several letters Bernstein wrote to his family from Italy in 1953. "He writes with a sort of warmth and fatherly affection that's really quite lovely and obviously quite genuine too."