The Colorful, Playful Music of Samuel Adler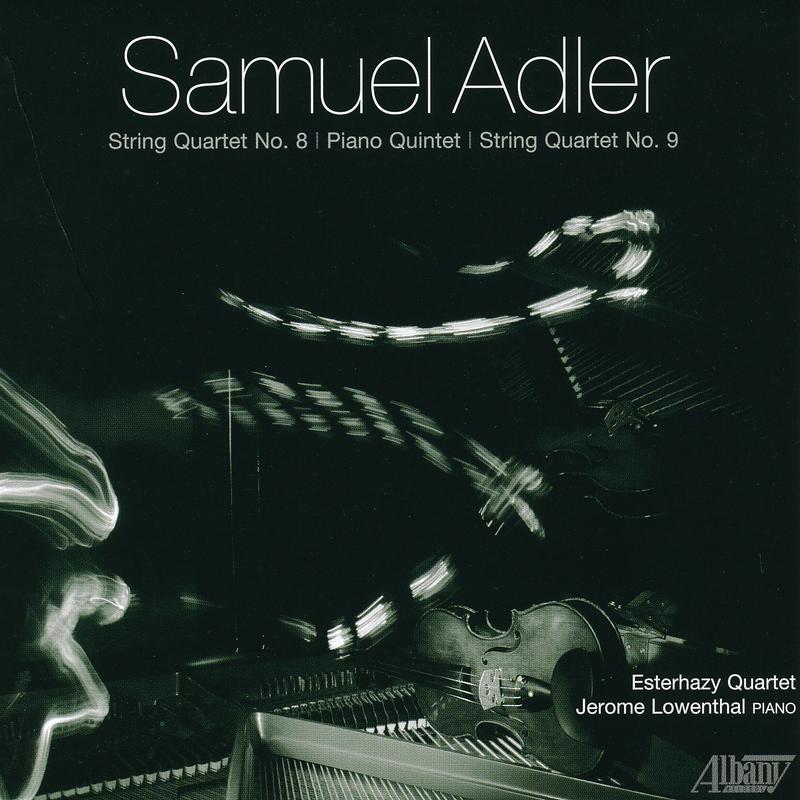 An anti-minimalist with a thing for counterpoint, composer Samuel Adler writes music that's difficult to hum but colorful and underplayed. On this new album, the Esterhazy Quartet delivers powerful performances of Adler's Eighth and Ninth String Quartets, as well as his Piano Quintet, with guest pianist Jerome Lowenthal.
A son of a Jewish cantor, Adler was his father's choir director at the age of 13 before pursuing composition studies with Aaron Copland, Paul Hindemith, Walter Piston, Hugo Norden, and Randall Thompson. Adler has had a large impact on Jewish liturgical music, having arranged and written many full-length services and published two anthologies of music for the High Holidays.
It's more likely, however, that the reason his name has wiggled into your library is because he authored what once was regarded as a bible for orchestration, The Study of Orchestration. Upwards of a zillion music students have studied his writings or attended his workshops at more than 300 universities and conservatories; he is currently on faculty at the Juilliard School and professor emeritus of Eastman.
Quartet No. 8 (1988) was written in memory of Adler's friend, an amateur violinist, Andies Roodenburg. Originally a short elegy titled Herinnering ("remembrance" in Dutch), Adler subsequently added three more movements to reflect the multidimensionality of Roodenburg's personality.The slow, dark sounds of the first and third movements describe a serious man; the second and fourth movements are infused with humor and energy. The forward-moving fourth movement offers a breath of tonal relief from a mostly atonal world before an abrupt ending. In the liner notes, Adler describes this movement as "A summation of a life fully lived. A life of triumphs and defeats, yet always vital and exciting."
The Ninth Quartet was commissioned by and dedicated to the Esterhazy Quartet in honor of their 40th anniversary, in 2010. Its rhythmic nuances and drive in the first and last movements might make you want to dance. The inner movements draw inspiration from a slow biblical chant and Mendelssohn's scherzi. The latter has Adler adding melodies that, according to him, "seem not to belong," but were added in a "humorous" way.
In the Piano Quintet, Adler weaves winding piano lines around tangled, contrapuntal string lines, making for an at times cartoony sound that conjures images of a shepherd rounding up lively sheep. It's an intriguing, buoyant conversation and Lowenthal's performance is spot on.
Adler's style may not be as fashionable right now as it would have been in the golden ages of, say, Babbitt and Carter, but with its drive and hints of tonality, his music is thoughtful and errs on the side of playful; it's certainly worth a few listens.
This audio is no longer available.