Mozart vs. Clementi: A Pianistic Duel - Part 1
Thursday, September 05, 2013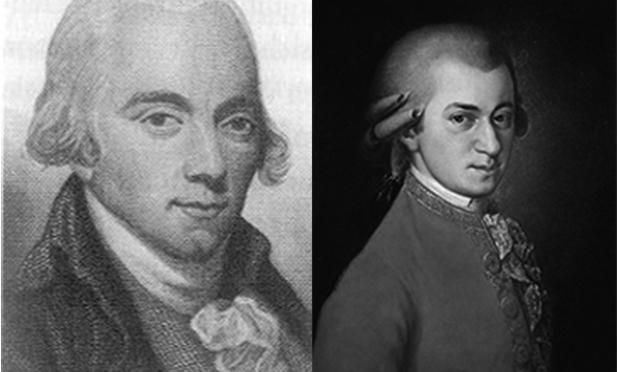 (Wikimedia Commons/Wikimedia Commons)
For the next two installments of Reflections from the Keyboard, David Dubal surveys piano music by Muzio Clementi and Wolfgang Amadeus Mozart, history's greatest dueling concert pianists. In part one, the stage is set for the two illustrious pianists to meet.
Pianist, teacher and author David Dubal hosts a weekly exploration of classical music's piano greats.

More
Clementi, often called the father of the pianoforte, was born in Rome in 1752. Like Mozart, he was a prodigy. When he was 14, an extremely wealthy Englishman, Peter Beckford, struck a deal to buy him from his father. He brought Muzio back to his country estate in England and gave him fine tutors as well as a new English Broadwood piano. Muzio experimented with new techniques and developed a legato playing style, something he could not achieve with the harpsichord.
Mozart was born four years after Clementi in Salzburg, Austria. As a child he first encountered the piano through J.S. Bach's youngest son, Johan Christian, then the best pianist in London. Mozart became a prime advocate of the early piano and a master of Viennese-type instruments, which were lighter in action and sound.  
Mozart was freelance composing in Vienna when he met Clementi in 1781. The Broadwood Piano Firm had sent Clementi on a tour to promote their recently built grand pianos. While he was in Vienna, Emperor Joseph II invited him to face off against Mozart before the entire glittering court of the Viennese empire. The contest, which featured solo pieces and sight-reading, ended in a tie.
Playlist:
Muzio Clementi: Sonata in B-Flat, Opus 47, No. 2 / Arthur Loesser
Muzio Clementi: Sonata C major Op. 34 No. 1; Mvt 1. Allegro con spirito / Emil Gilels
Wolfgang Amadeus Mozart: Sonata for Piano no 8 in A minor, K 310; Mvt 1 / Dinu Lipatti
Wolfgang Amadeus Mozart: Concerto for Piano no 25 in C major, K 503; Andante / Murray Perahia
Muzio Clementi: Piano Sonata in B-flat major, Op 12, No 1; Mvt 1 / Arturo Benedetti Michelangeli
Wolfgang Amadeus Mozart: Sonata for Piano no 11 in A major, K 331: Mvt 3 Rondo alla turca / Maria-Joao Pires
Wolfgang Amadeus Mozart: Concerto for Piano no 21 in C major, K 467 / Anda, Géza
Muzio Clementi: Sonata In F Minor, Op. 14, No.3 / Vladimir Horowitz
The WQXR e-newsletter. Show highlights, links to music news, on-demand concerts, events from The Greene Space and more.