Top 5 @ 105 Composer Museums
Inspect the room where Handel slept, see the last piano that Chopin composed on, or check out Beethoven's viola: museums devoted to single composers can reveal a lot about the music we know and love. As you make your summer travel plans, here are five composer museums to consider, both near and far.
1. Chopin Museum, Warsaw, Poland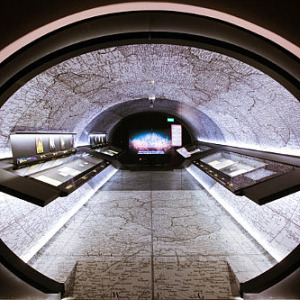 Warsaw's new Frédéric Chopin Museum, designed by Milan-based architects Ico Migliore and Mara Servetto, is radically remaking the often-stodgy museum experience by using cutting-edge audio-visual technology. Visitors are given computer chip-embedded cards that enable them to personalize their experience, choose their language and interact with 70 multimedia displays. In one room, you can activate the sounds of different instruments by walking over sensors embedded in the floor. In another, an installation of 14 music sampling stations are suspended overhead and pulse with the rhythm of a rare Chopin score. The entire four-story museum is housed in the rebuilt 17th-century Ostrogski Palace and houses over 5,000 items, including musical manuscripts, printed scores, correspondence, personal items like cufflinks and diaries and even a lock of the composer's hair.
2. Bach Museum, Leipzig, Germany
The city where Johann Sebastian Bach spent his final 27 years and composed many of his major works is home to the Bach Museum, which re-opened this spring after a two-year renovation and expansion project. The draw here is partly location: the museum exists in a beautifully restored Renaissance house on Thomaskirchhof Square, opposite St. Thomas Church, Bach's former employer. It's also scholarly. The center is part of the Bach-Archiv Leipzig, one of the finest Bach research institutes with a major collection of Bach manuscripts. Among the objects on display is is the organ console from the former Johanniskirche Church where Bach worked, jewelry from the (presumed) graves of J.S. and his second wife, Anna Magdelena and a room full of original Bach autographs.
3. Beethoven-Haus, Bonn, Germany
Beethoven-heads make the pilgrimage to the the Beethoven-Haus Museum. Based in the home where the composer was born, it contains the composer's first viola, last pianoforte, his writing desk, notebooks, letters, spectacles and other personal memorabilia. Along with the museum, the landmark site encompasses the Beethoven Archives and a modern chamber music hall.
4. Copland House, Cortlandt Manor, NY
You don't need a passport to visit Copland House in Cortlandt Manor, N.Y. The long-time home of composer Aaron Copland is just an hour's drive from New York City. In 2008, the National Park Service declared the early-1940s home a national historic landmark, a rare honor for an American composer. Copland lived in the house from 1960 to his death in 1990. He wrote his memoirs and a number of major works there. It now houses a nonprofit organization that runs musical and educational programs including the Music from Copland House series.
5. Handel House, London, England
The London townhouse where George Frideric Handel lived and wrote some of his greatest works became the Handel House Museum in 2001. Handel lived in the tall, narrow house in Brook Street for 36 years until his death in 1759, and there he composed his celebrated Messiah as well as operas, concertos, coronation anthems and Music for the Royal Fireworks. Handel is thought to have had more than 80 paintings in the house, and much of the interior doubles as an art gallery. Also included are a selection of the composer's letters, manuscripts and printed scores.
Got a favorite composer museum? Tell us about it below.