All Roads Lead (Back) to Rome
Greetings after a grand hiatus in my blogging activity, due to a healthy-sized sojourn back on home soil (East and West coasts of the U.S.), and some adventures within Italy too, including a recent visit to nearby Palestrina, birthplace of Giovanni Pierluigi da... (Palestrina), memorialized here as the Prince of Music:
On a recent American Academy in Rome "walk and talk," a day-long excursion that included the town of Palestrina (which is actually a 2000+-year-old town formerly known as Praenestina, home of the cult goddess-oracle Fortuna!) as well as nearby Subiaco, I had the opportunity to tell my colleagues in other fields about this famous legend: the Council of Trent was considering issuing a decree of condemnation against the new polyphonic music because they believed its shameless ornateness obscured the words of the Mass. Palestrina was able to "save" polyphonic music by writing his Pope Marcellus Mass, thereby proving that music could be both contrapuntal AND comprehensible. Reminded of how much I enjoyed singing this mass (and others of the 103 he wrote) in my six years as a member of Pomerium, I decided to organize a read-through of some Italian Renaissance music here at the Academy--having found some music-loving colleagues who may be visual artists now but formerly sang in the choir! Of course, since Palestrina's gift was in striving towards perfection within the form, the experience of pleasure in singing and hearing it is the kind one feels in the presence of pristine and balanced beauty. For a more convulsive beauty, one must look to his more worldly colleagues, like di Lasso or Victoria.
Here is a little bit of the historic mass:
Kyrie from the Pope Marcellus Mass, Voices of Ascension
Meanwhile, elsewhere in Rome at around the same time, Michelangelo was busy writing his love sonnets to various men, a fact that remained buried in translator-corroborated shame until our own century. One of the great pleasures of being at the Academy here is that I can always find someone around who has translated or would like to translate Michelangelo or Catullus, when my search for love texts demands it. What good fortune then that the luminous writer and bon vivant Leonard Barkan, elsewise Professor of Comparative Literature at Princeton, was here as a Resident for the past few months. His translation of Michelangelo's sonnets ended up being the words for the movement entitled "Devotion" in my ever-growing song cycle (and official Rome Prize project) Graffiti dell'amante:
All this, dear sir, I've felt since we first met.
I'm moved by sweet and bitter, no and yes:
It can only be the sight of your fair eyes.

From your caprice, I turn now pale, now red,
Cold in sunshine, hot in wintry chill.
In your will I shape my every wish,
From your breath I form my every word,
My thoughts are born in chambers of your heart.

From Sonnets LXXVI (1533) & LXXXIX (1534), used by permission of the translator
This brings me to the activities of my trip to the states in late February-early March, which kicked off with the world premiere of the first version of Graffiti dell'amante in Harrisburg, PA, presented by Market Square Concerts, one of the commissioners of the piece. Along with three other songs with similarly essential titles--"Absence," "Ravishment" and "Remembering"--and with texts by expatriate writers from several centuries in Rome, this little collaboration with Leonard received its world premiere on February 20 in Harrisburg.
Here is a picture of the Brooklyn Rider String Quartet, Market Square Concerts Artistic Director Ellen Brody Hughes and myself after the concert: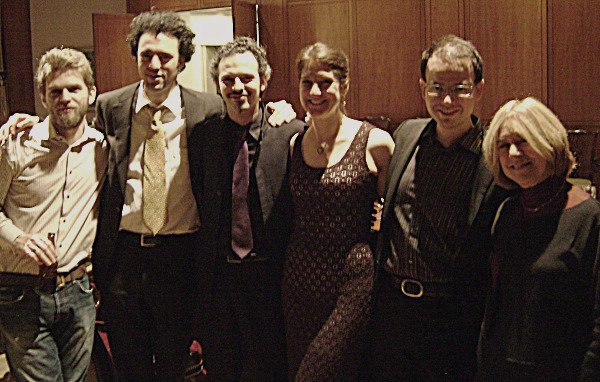 Next month the quartet will join me here in Rome for the premiere of the next version, which will likely include a few more of these little love entries. The possibilities keep unfolding, and I will probably be expanding this collection for a long while into the future as I stumble upon texts by Gertrude Stein, fellow AAR Fellow Peter Campion, the anonymous but famous Portuguese nun, Elizabeth Barrett Browning and so many others. At the moment I am working on Forgiveness, which seems--so far--to have no singing in it at all.
Before coming back to this side of the Atlantic, I enjoyed participating in the unique process of the Other Minds Festival in San Francisco. Since 1993, OMF has been bringing composers together for a four-day retreat out in the breathtaking rolling Northern California countryside, then presenting a varied and original festival of their music in San Francisco. It was a great pleasure to hear Carla Kihlstedt play my Kafka Songs, which were written expressly for her unique ability to play violin and sing at the same time.
'Couriers' from Lisa Bielawa's Kafka Songs, performed by Carla Kihlstedt
During our retreat, we eight composers got a chance to present our music to each other in a private, relaxed setting. With Carla, it was nice to be able to return the favor by singing along while she showed some of her own work to the assembled: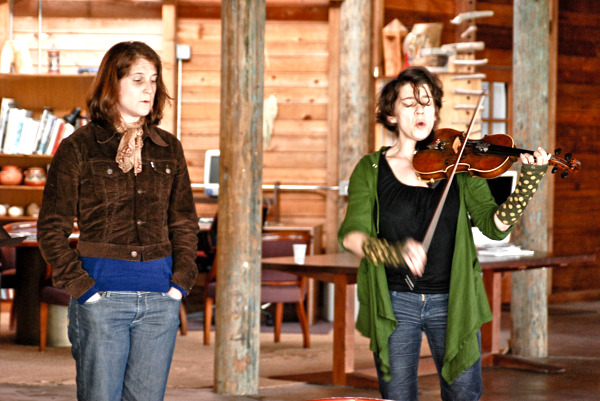 And here we are, all eight of us, on the porch of the beautiful Artists' House of the Djerassi Ranch: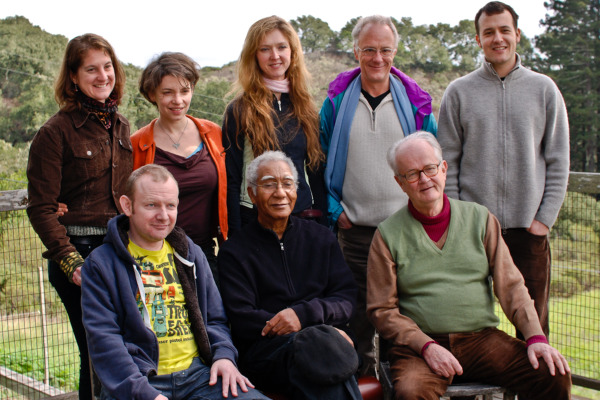 The next few weeks are full of musical adventures, so I look forward to reporting again soon from your Q2 Italian outpost!