5 Classical Couples That Gave Us Lovely Music
Tuesday, February 14, 2017 - 12:00 AM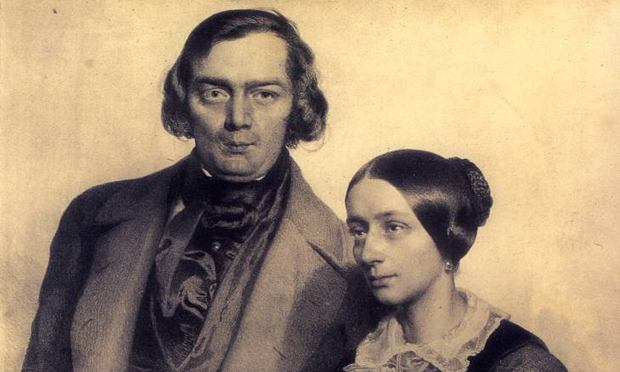 (Wikimedia Commons)
Your favorite composers had a love life, too. Here are five pairings — some successful, others not so much — that produced some memorable music.
The Schumanns
When Robert Schumann was 20-years-old, he moved in with his piano teacher, Friedrich Wieck. The promising pianist also met his teacher's prodigious daughter Clara, and over time they fell in love and got engaged. When Friederich found out he was livid and felt that romance would distract his daughter from her career as a concert pianist. Amid threats to literally shoot Robert and to disinherit Clara, the two lovers communicated their amorous feelings with secret letters. Eventually, the two did get married and Friedrich came around to embracing his son-in-law — grandchildren can really work wonders.
Augusta Holmès and César Franck
In her late 20s, then well-known composer Augusta Holmès began to study with César Franck. Like so many other composers she crossed paths with, he fell in love with her, although he was already married and well into his 50s. The conflicted Franck felt the only proper way to communicate those desires was through music. In 1879, he premiered his Piano Quintet in F minor. While most of the audience thought it was great, there were two who thought it was the absolute worst. First was Franck's wife Félicité Saillot Desmousseaux, who knew it was written with another woman in mind and had no trouble expressing her disapproval. And then there was the composer Camille Saint-Saëns. Franck dedicated the piece to Saint-Saëns and had him play piano at the premiere. Apparently, Saint-Saëns also figured out it was secretly written for Holmès. It turns out, he was also in love with her and made multiple (failed) marriage proposals. After the piece, he refused to shake Franck's hand and made a dramatic exit from the stage. 
Satie and Valadon
Impressionist composer and ambient music godfather Erik Satie found the perfect match in the painter and model Suzanne Valadon. He charmed her during their first meeting and the two began what would be Satie's only intimate relationship. Going by quirks alone, it's hard to imagine a more compatible couple. For example, he only ate white foods (including "grated bone and the fat of dead animals") and she kept a goat in her apartment that would eat all of her bad paintings. The bliss came to screeching halt when Valadon, for no apparent reason and with zero in the way of an explanation, called their arrangement off. Naturally, Satie dealt with his first and only breakup in the most Satie-way possible by writing Vexations. Whether or not he actually intended for it to be discovered, let alone published, is a mystery. But it's written on a half sheet of paper and insanely difficult to read. But the kicker is the duration — it's meant to be played 840 times in succession. Meditative, indeed.
The Gustav and Alma Mahler
When Alma Schindler first met Gustav Mahler, she was totally starstruck. They eventually married, but it wasn't a union that any modern couple would want to emulate. Alma was a talented composer in her own right, but Gustav demanded she put her creative urges aside and restrict herself to the role of wife and mother. This did not go over well with the extraverted Alma, and her deep dissatisfaction would culminate in an affair with the famous architect Walter Gropius. When Mahler found out, he was devastated. It was the latest in a series of unfortunate events — his daughter had recently died and he was diagnosed with a heart condition. The composer sought out the help of none other than Sigmund Freud, who basically told him he really dropped the ball by being so controlling. In an effort to make peace before he died, Mahler demonstrated a renewed interest in his wife's work and even suggested they work on some music together. In 1910, the year before Mahler's death, Alma got five of her own lieder published. A happy ending that came too late? Maybe, but a happy(ish) ending nonetheless.
Gian Carlo Menotti and Samuel Barber
Gian Carlo Menotti entered a distinguished class at the Curtis Institute of Music that included his future partner, Samuel Barber. The two composers soon realized that their love for one another also translated into a productive musical collaboration, especially when it came to opera. Menotti contributed libretti for Barber's Vanessa and A Hand of Bridge. When Barber's Antony and Cleopatra famously flopped during it's Metropolitan Opera premiere, Menotti was the man responsible for a much needed revision of the libretto.
More in:
James Bennett II is a staff writer for WQXR.
The WQXR e-newsletter. Show highlights, links to music news, on-demand concerts, events from The Greene Space and more.