5 Classical Music Rivalries That Left Bad Blood
Monday, November 21, 2016 - 12:00 AM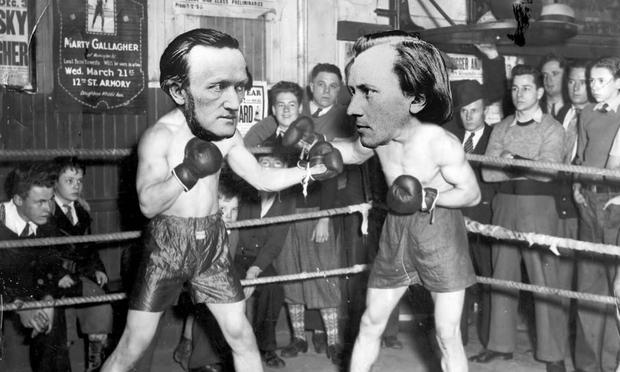 (Photo illustration by Mike Rinzel)
Louis Armstrong and Dizzy Gillespie. Oasis and Blur. Biggie and 2Pac. Music rivalries have a long history and classical music has seen its share of bad blood. Even though the music makes you feel great, there were definitely some composers you wouldn't want to cross. Here are five juicy chunks of musical beef that the classical world has cooked up over the years.
Brahms vs. Wagner
Mid-19th century Germany saw one of classical music's most notable rifts: the War of the Romantics. Progressive composers favored program music that told some kind of story. Traditionalists believed that music shouldn't have to be "about" anything. The stylistic differences are typified in the music of progressive Wagner and conservative Brahms. Their relationship started as an amiable one, but Wagner grew to dislike Brahms's guts — going so far as to demand that Brahms return a gifted manuscript of Tannhauser.
Clara Schumann vs. Liszt
War of the Romantics traditionalist Clara Schumann took a particular delight in ripping into Liszt. She and her husband, Robert, were actually friendly with Liszt in his earlier career, but when Lisztomania took off she felt that he became a way too full of himself. Once, she was invited to perform at a Beethoven festival, but canceled as soon as she found out Liszt was slated to perform alongside her. And when she found out that Robert had once dedicated music to the adored pianist, she went out of her way to strike any mention of his name in the dedication.
Tchaikovsky vs. The Five
Romantic favorite Tchaikovsky found himself musically opposed by a group of Russian composers called "The Five:" Mily Balakirev, Modest Mussorgsky, César Cui, Nikolai Rimsky-Korsakov and Alexander Borodin. The group envisioned a new Russian art music that was separate from Western European traditions. Conservatory-trained Tchaikovsky felt otherwise, and had no problem dissing his contemporaries. He believed Borodin was "unable to compose a single line without somebody's help," and that Mussorgsky "botches any old how, blindly trusting in the infallibility of his genius." Ouch.
Saint Saens vs. Debussy
Debussy's impressionism did not sit well with the traditional leanings of fellow French composer Camille Saint-Saëns. Debussy's Prélude à l'après-midi d'un faune may have enchanted listeners, but Saint-Saëns didn't fall under its spell. Instead, he dismissed it as lacking "style, logic and common sense." When Debussy was up for election to the Institut de France, Saint-Saëns did everything he could to block him, calling his musical aesthetic an "atrocity." Debussy didn't mince words, either, saying of his hater, "I have a horror of sentimentality and cannot forget that its name is Saint- Saëns."
Prokofiev vs Stravinsky
These two recognized talent, and expressed appreciation when they saw fit — Stravinsky, for example, was particularly fond of Prokofiev's ballet Chout. But things often got ugly. During Paris auditions for Prokofiev's The Love for Three Oranges, Stravinsky walked out after the first act and insulted the composer's operatic talent. Prokofiev didn't take too kindly to this, and the two almost found themselves in an all-out fistfight. Though they made amends years alter, their relationship was never the same.
This by no means is a complete list. Bad blood flows throughout musical history. What other musical rivalries, be they classical or not, fascinate you? Share them in the comments section below.
More in:
James Bennett II is a staff writer for WQXR.
The WQXR e-newsletter. Show highlights, links to music news, on-demand concerts, events from The Greene Space and more.