5 Classical Pieces To Celebrate An Election Victory
Wednesday, November 09, 2016 - 12:00 AM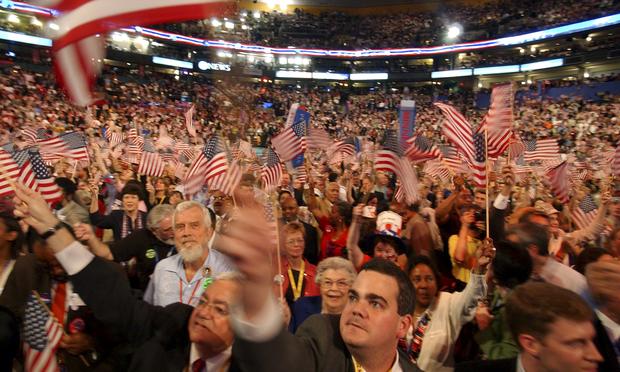 (Tom Williams/Getty Images)
The election is finally over and your favored candidate emerged the champion. Feels good, doesn't it? No doubt you'll want to celebrate properly, so we've compiled some top-notch tunes that reflect the unbeatable feelings of sweet victory. Let's get this party started, shall we?
Note: If you are feeling the blues because your candidate lost, we have a list for you, too.
"Triumphal March," from Aida (Verdi)
A big thank you to Giuseppe Verdi for inviting us to the most magnificent parade in all of the Old Kingdom. In this iconic scene, the Egyptian army returns victorious from battle against the Ethiopians. The chorus and orchestra serve up some of the most recognizable and joyous music in operatic history. It's the perfect way to kick off your post-election celebrations, but if you want to avoid any tragedy don't listen past this part. It's still an opera, after all.
"Presidential Polonaise" (Sousa)
President Chester A. Arthur wasn't a fan of the official presidential anthem, "Hail to the Chief." During his presidency, he asked John Philip Sousa to write a more "suitable" anthem, and along came "Presidential Polonaise." The lively military march, with its regal brass and European rhythms, is almost certainly what Arthur wanted. We'll never know for sure — he died before he heard it— but surely you'll find it spectacular.
Wellington's Victory (Beethoven)
Beethoven composed this piece to commemorate the Duke of Wellington's heroic victory over French forces at the Battle of Vittorio. In order to capture the essence of the battle, Beethoven created a musical mash-up incorporating familiar British ("Rule Britannia," "God Save the King") and French ("Marlborough Has Left for the War," aka "For He's a Jolly Good Fellow") tunes. Wellington's Victory was a hit when first premiered and it's easy to hear why.
"Prize Song," from Die Meistersinger von Nürnberg (Wagner)
In this Wagnerian comedy, the knight Walther finds himself in love with the lovely Eva. They desperately want to marry, but there's a bit of a problem: Eva's dad has already promised her hand to the winner of a master-singers' song contest. But poor Walther knows nothing about music. So, with a lot of help from his friends — and a cram session that would put any college student to shame — he sings a radiant ode to love that amazes the judges.
1812 Overture (Tchaikovsky)
In a way, the 1812 Overture is like a souped-up version of Beethoven's Wellington's Victory. An Eastern Orthodox hymn and the French and Russian national anthems come together in a musical mélange that represents the successful defense of Napoleon's 1812 invasion of Russia. Tchaikovsky's enduring work sounds like a victory party, and in your post-election ecstasy no one will be surprised if you mimic those fierce cannons with some champagne pops.
The end of this playlist can't possibly mark the end of your celebrations. What else are you spinning on this special day?
More in:
James Bennett II is a staff writer for WQXR.

Zev Kane is WQXR's Music Coordinator.
The WQXR e-newsletter. Show highlights, links to music news, on-demand concerts, events from The Greene Space and more.