5 Marathon-Length Classical Works
Wednesday, November 02, 2016 - 04:50 PM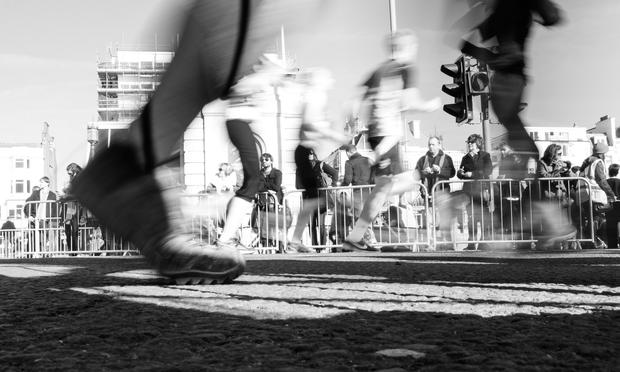 (Peter Castleton/Flickr)
On Sunday, running enthusiasts from all over the world will put their bodies to the test during the New York City Marathon. The 26.2-mile run is something that most of us will never even attempt, but that doesn't mean we can't get in on a little foot race-related action. On-air Sunday, we'll be presenting a marathon of Beethoven's symphonies.
And here we present a few classical "marathons" — pieces that are exceptionally long, grand in scale or take superhuman concentration to complete.
Mass in B minor (Bach)
Our buddy Bach loved church music more than a marathoner loves rest days. Nowhere is this more evident than his sprawling Mass in B minor. Sung in Latin, this work put the complete Catholic Ordinary Mass to music, a notable undertaking for a Lutheran organist. Bach never formally named this mass, but who could blame him? The nearly two-hour long work wasn't completed until a year before his death, and a title probably wasn't his top priority at that point.
Vexations (Satie)
When Erik Satie and painter Suzanne Valadon ended their run as "world's quirkiest couple," Vexations was born in the aftermath. Satie wrote the piece on just half a sheet of manuscript paper, but it is far from a quick keyboard jaunt — he meant for it to be repeated a whopping 840 times. Talk about the ultimate breakup song.
The Ring of the Nibelung (Wagner)
Wagner's Ring Cycle tells a tale of the struggle for a magical ring that imbues the owner with immense power. He drew heavily on Norse mythology and a German epic poem called Nibelungenlied. With all that source material, it should come as no surprise that Wagner worked on his cycle for more than two decades and designed an opera house specifically for the premier. The behemoth four-part story takes about 15 hours over multiple nights to complete, making it one of history's most intense binge-watches.
Symphony No. 1, "Gothic" (Brian)
What happens when you translate awe-inspiring Gothic architecture into sound? You get Havergal Brian's first symphony. It's massive not just in length — "Gothic" is one of the longest symphonies in the standard repertoire — but also in scale. It requires up to 1,000 performers, and by making use of instruments like the basset horn and scarecrow (seriously), Brian left no musical stone unturned.
Piano Concerto No. 2 (Brahms)
Most piano concerti from Brahms's day had three parts. But old Johannes, overachiever that he was, just had to go the extra mile and tack on a fourth. At 50 minutes, his second concerto is longer than most. Not without a sense of humor, Brahms jokingly called his finished work "a tiny, tiny little concerto." But no one could get mad — with its ability to conjure up feelings of passion, fear and triumph, the concerto was (and continues to be) a hit.
You may not get a medal for listening to all of these tunes, but we bet you'll still feel great. What other long listens do you think should be on this list?
More in:
James Bennett II is a staff writer for WQXR.
The WQXR e-newsletter. Show highlights, links to music news, on-demand concerts, events from The Greene Space and more.