5 Versions of the National Anthem that Sparked Outrage
Tuesday, August 16, 2016 - 10:13 AM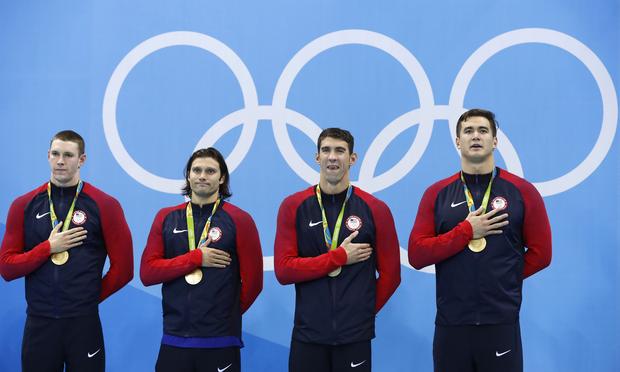 (Odd Anderson/Getty Images)
With 27 gold medals (and counting) for Team USA at the Rio Olympics, American audiences have had ample opportunities to listen to this game's rendition of the "The Star-Spangled Banner." And the verdict is — it's too melancholy. That criticism comes from Jason DeBord, a conductor and pianist who teaches in the musical theater department of University of Michigan. DeBord told The New York Times that when the anthem starts playing "I hit the mute button."
The reason for this outcry is that the orchestration's arrangement includes too many minor chords, which make the anthem sound sad critics say — they would prefer it in the more traditional and sunnier major keys. The New Yorker's Alex Ross attributed this version to the "influence of pop arrangements." Here are four other versions that caused an uproar:
Igor Stravinsky, 1944 Boston
No, he wasn't arrested, but Boston Police did ban Igor Stravinsky from playing his thorny version of "The Star Spangled Banner" after a 1944 performance. The scandal began when the Associated Press reported that the audience tried, unsuccessfully, to sing along with Stravinksy's version. The next night, police attended the concert, ready to arrest the composer should he lead his "embellished" version — which is still illegal under Massachusetts law — from the conductor's podium. Stravinsky capitulated.
Peter Breiner, 2004 Olympics
If the Rio controversy sounds similar, it's probably because it's reminiscent of the 2004 Olympics brouhaha in which a number of Americans complained about the more genteel version of the "Star-Spangled Banner." Composer Peter Breiner's arrangement, which he wrote in 1994, eschewed the bombast and the militaristic nature of the piece for a more delicate and refined — detractors called it "Europe-friendly" — ode. Rowdy, chest-thumping sports fans weren't pleased.
José Feliciano, 1968 Detroit
José Feliciano, a blind blues singer originally from Puerto Rico, was tapped to sing the National Anthem at 1968 World Series game in Detroit. The then 23-year-old later wrote, "I wanted to sing an anthem of praise to a country that had given my family and me a better life than we had had before." In doing so, he was one of the first popular musicians to significantly rearrange it. Unfortunately, his noble intentions were not appreciated by the audience, which found his slow, soulful version too brazenly off-putting. Some, with a less than adequate knowledge of geography, even demanded that Feliciano be deported back to Puerto Rico, which was then, as it is now, a U.S. territory. 
John Philip Sousa, Chicago 1892
The U.S. didn't have an official anthem when John Philip Sousa completed his arrangement of "The Star Spangled Banner," which is perhaps why his version, set in the style of Richard Wagner's Tannhäuser, never caused the outcry that later renditions sparked. The composer found a kindred spirit in Wagner, who he called "a brass man." But Sousa would be involved in a bit of intrigue four decades later when his own work, "Stars and Stripes Forever," became a leading candidate to become the country's anthem. Sousa endorsed the Francis Scott Key song instead of advocating for his own work. Suffice it to say, his overly romantic arrangement never caught on.
More in:
The WQXR e-newsletter. Show highlights, links to music news, on-demand concerts, events from The Greene Space and more.