Movers and Shakers in America
Saturday, October 17, 2009
This week we celebrate the roots of American music and take a closer look at the movers and shakers that created its innovative sound.
Terrance traces our musical family tree from Scott Joplin down South, playing his Maple Leaf Rag, to Aaron Copland on the Upper West Side, composing music like Four Piano Blues. He also takes us back to Europe, where composers like Darius Milhaud and Maurice Ravel are inspired by the new sounds coming out of America to write "le Jazz."

Jumping ahead to today, Terrance introduces us to composers born outside of the US who are continuing the tradition of discovery and finding new sound, right here in New York.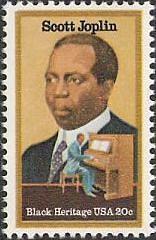 Playlist:
Maple Leaf Rag
Scott Joplin
Louis Armstrong, trumpet
Various Artists
Grammercy Records

A Real Slow Drag (from Treemonisha)
Scott Joplin
Marcus Roberts, piano
Sony Classical 60554

Four Piano Blues
Aaron Copland
Alan Marks, piano
Nimbus Records 5267

Spirituals (excerpts from 24 Negro Melodies, Op. 59/1)
Samuel Coleridge-Taylor
Virginia Eskin, piano
Koch 7056

Suite: Overture
Darius Milhaud
Howard Klug, clarinet
Catherine Tait, violin
Ian Hobson, piano
Arabesque 6569

Three Rag-Caprices
Darius Milhaud
Ian Hobson, piano
Arabesque 6569

Sonata: Blues-moderato
Maurice Ravel
Leonidas Kavakos, violin
Anne Epperson, piano
Koch 7009

Yamekraw-A Negro Rhapsody
James P. Johnson
James P. Johnson, piano
Smithsonian Folkways 40812

Prelude, Fugue and Riffs
Leonard Bernstein
Benny Goodman, clarinet
Leonard Bernstein, conductor
Columbia Jazz Combo
Columbia 102798

Serenade for Violin and Orchestra (after Plato's Symposium)
Leonard Bernstein
Hilary Hahn, violin
David Zinman, conductor
Baltimore Symphony Orchestra
Sony Classical 60584

Spell
Paola Prestini
Richard Mannoia, clarinet
Claire Bryant, cello
Yuri Yamashita, vibraphone
Carmen Kordas, video
WNYC Archival Recording

Untitled in Two Movements
Yungchen Lhamo
Yungchen Lhamo, voice
WNYC Archival Recording

Harlem
Duke Ellington
Sir Simon Rattle, conductor
City of Birmingham Orchestra
Angel/EMI 15014
The WQXR e-newsletter. Show highlights, links to music news, on-demand concerts, events from The Greene Space and more.