6 Great Classical Music 'Thank You' Compositions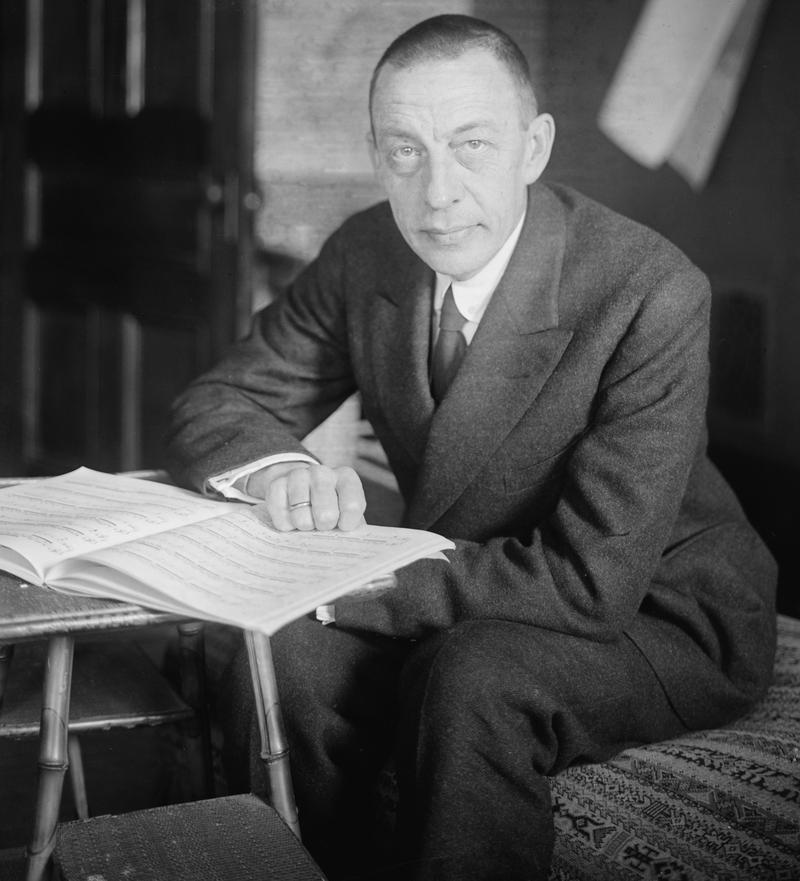 Composers typically dedicated pieces to kings, powerful aristocracy, wealthy patrons, and the like. But every now and then, a composer will take the time to pen a work of personal thanks to a friend or teacher they admired, or even someone who helped them in a time of need. These pieces are usually very moving — the type of music that a composer will save the "best notes" for. Some are memorials, some are full of love, but at the heart of each of these works, a profound "Thank You" can be heard. For Thanksgiving (and any other time), here are six pieces that were written as a token of thanks.
Rachmaninoff: Piano Concerto No. 2
When a composer is writing a concerto, he/she usually works closely with a soloist and that soloist typically becomes the dedicatee of the work. The story of Rachmaninoff's famous Piano Concerto No. 2 is a little different, however. Rachmaninoff fell into a deep depression after the embarrassing premiere of his First Symphony. He stopped composing altogether, losing faith in his creative craft. Rachmaninoff reached out to a doctor who was a lover of music and musician himself — Nikolai Dahl. Dahl worked closely with him, using hypnosis and psychotherapy (both very new methods at the time), and encouraged him to compose. The result was Rachmaninoff's famous piano concerto, which he unashamedly dedicated to Dr. Dahl. What better way to give thanks?— as this has become one of the most beloved works of all time (and usually makes the top five in our annual Classical Countdown).
Elgar: "Enigma Variations"
A similar story exists between the composer Edward Elgar and his close friend, Augustus Jaeger. Jaeger was a music publisher and artistic inspiration for Elgar. At a very low point in his life, Elgar almost permanently quit composing. Jaeger visited him and raised his confidence with encouraging words and inspiring anecdotes. Elgar composed his "Enigma Variations," a series of 14 variations on an original theme. Each variation was dedicated to a different friend and No. 9, which has become the most popular, was dedicated to Jaeger. The title of this deeply moving gem, "Nimrod," is an archaic name that directly relates to the German name "Jaeger."
Shostakovich: Second Piano Trio
Great minds think alike: Shostakovich, a musical dictionary himself, befriended a true Renaissance man in his early 20s — Ivan Sollertinsky. Sollertinsky was a scholar, music critic, professor, engaging lecturer and it was believed that he knew more than 20 languages. In addition to being a mentor and source of inspiration for Shostakovich, he was an enthusiastic advocate of new music. He died suddenly at the age of 42 while Shostakovich was composing his Second Piano Trio. The newspapers reported the cause of death as heart illness, but there is much speculation that it was foul play during an evacuation. Shostakovich was devastated — he lost the one friend who could satiate him intellectually and the biggest supporter of the music he wanted to write. Undoubtedly, the piece is a memorial, with Jewish-themed klezmer music pervading the last few notes of the work, but Shostakovich also had a sincere thank you in mind when he dedicated this trio to his late friend. Shostakovich wrote, "I remember Ivan Ivanovich Sollertinsky with gratitude."
Brahms: Six Pieces for Piano, Op. 118
Is there a greater story of love in the history of music than that of Johannes Brahms and Clara Schumann? A friend and caretaker to the Schumann family for most of his adult life, Brahms selflessly gave his time to the family he loved so dearly. He admired Robert Schumann for his hospitality and tutelage and became a father-figure to the Schumanns' children after Robert's passing, but the bond that seemed to be the strongest was the one with Clara. Clara performed many of Brahms's piano works and Brahms dedicated multiple pieces to Clara, including Opus 9 and Opus 76. The work of thanks that we expose here, however, is among the last and finest of Brahms's output — his Opus 118, a collection of six solo piano pieces. Those who are familiar with this music know that it is hard to find sweeter sounds than the ones Brahms created in these works, particularly in the second piece, which is the most famous. Every note was carefully chosen for this special woman that seemed to be a maternal figure and life-partner to the composer.
Beethoven: Piano Sonata No. 26
Beethoven revoked any gratitude he felt towards Napoleon Bonaparte after he declared himself Emperor of France (as evident in the furious gash on the manuscript of his third symphony, where the dedication to Bonaparte once read). To make matters worse, Bonaparte led an attack on Vienna a few years later in 1809, consequently forcing a very important man to flee the city —the Archduke of Austria, Rudolf. Rudolf was not only a patron of Beethoven, but a supporter of the arts and amateur composer-pianist himself. He took lessons with Beethoven and the two became good friends (and that says a lot, as Beethoven rarely liked anybody). Beethoven dedicated some of his most famous works to Rudolf, one of them being this farewell piano sonata that he composed when Rudolf was forced out of Vienna. The work, Beethoven's 26th Piano Sonata, is commonly known today by the French title "Le Adieux" which means "The Farewell," but Beethoven wrote the equivalent in his native German over the first three notes: "Le-be-wohl." A poignant goodbye and personal thanks to a generous patron and dear friend.
Vaughan Williams: Symphony No. 5
When a composer decides to dedicate a work to someone they don't know personally, they usually seek out permission first — not for Ralph Vaughan Williams, however, who was very fond of the legendary Finnish composer, Jean Sibelius. The dedication on Vaughan Williams's Fifth Symphony reads, "Dedicated without permission to Jean Sibelius." Vaughan Williams claimed to have written this symphony with "sincerest flattery to Jean Sibelius, whose example is worthy of all imitation." When Sibelius eventually learned of this, the feeling of gratitude was reciprocated, as he wrote that "the dedication made me feel proud and grateful."
*Music History Insider: Listen to the opening 40 seconds of Sibelius' Sixth Symphony. Now listen to the strings in the first few minutes of the third movement (Romanza) of Vaughan Williams's fifth symphony — you can really hear the parts of Sibelius's string writing that Vaughan Williams's imitated.