6 Unusual Instruments You Must Hear To Believe
Wednesday, January 04, 2017 - 02:01 PM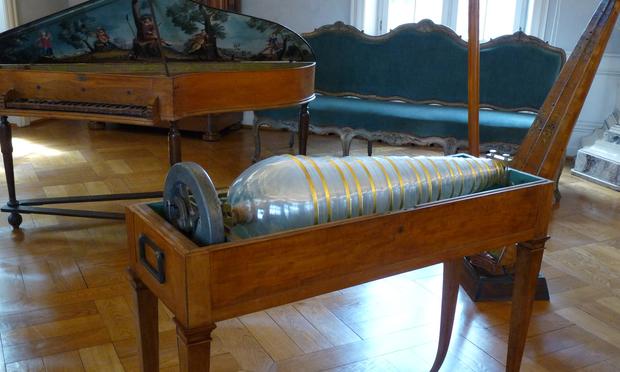 (Wikimedia Commons)
One thing about music is that everything, at one point or another, was an innovation. That includes instruments, too. Even those we take for granted today probably had their fair share of critics in the past. And who could blame them? Not everyone likes change. But some instruments never really caught on, or were once red-hot then flamed out in popularity. Here are a few instruments that are past their prime, or in some cases, ahead of their time.
Archicembalo
Italian composer and theorist Nicola Vicentino was a guy who just had to have the last word. During Vicentino's day, one of the hottest musical arguments surrounded the relationship between ancient Greek music and contemporary musical practice. Tensions reached a peak in 1551, when Vicentino took on Portuguese composer and theorist Vicente Lusitano in a famous debate. Vicentino lost, but he wouldn't let it go. Four years later he created the archicembalo to play the music that best demonstrated his ideas. It was a microtonal keyboard, which allowed the user to play notes between notes. Only one original archicembalo survived the Renaissance and it is on display at the International Museum and Library of Music in Bologna.
Octobass
Jean-Baptiste Vuillaume was born into a family of luthiers, so pressure for him to one-up Dad and Grandpa was high. Vuillaume turned out to be an impressive instrument maker in his own right — he was so good, that one of his violins impressed none other than Niccolò Paganini. Later, Vuillaume turned his sights to other projects and invented a colossal stringed instrument called the octobass. The player must stand on a special platform and use a system of levers that hold down the strings. Hector Berlioz was a huge fan and in 1844 wrote that serious orchestras should have at least three. It doesn't seem like anybody listened to him — except for the Montreal Symphony Orchestra, which acquired one in 2016.
Ophicleide
In 1817, Jean Hilaire Asté wrapped up his latest musical invention, one that would take orchestras by storm — the ophicleide. It was created to replace an earlier instrument called the serpent, which consisted of a winding tube with finger holes. Though some composers, including Mozart, wrote for it, the serpent was difficult to play. The ophicleide, however, had keys, which brought a much-needed consistency to the sound and composers such as Berlioz, Mendelssohn, Verdi and Wagner wrote for it. Later on, it proved no match for an even newer instrument: the tuba. Ophicleides were later replaced by their more rumbly and tubby cousins.
Glass Harmonica
When Ben Franklin wasn't busy dispensing wisdom, drinking beer or founding a country, he was probably inventing something. A stove, the lightning rod and bifocals are all things that Franklin can lay claim to. But music is most thankful for his glass harmonica. Over the years, several serious composers, including Mozart and Saint-Saëns, wrote music for it. So what happened? Performers began to report inexplicable bouts of madness and melancholy. The glass harmonica sounds eerie, but it's not because of voices from the dead. Rather, the sound frequencies produced by the instrument lie in a range that is difficult for human ears to place, which makes it hard for us to locate where the sound is coming from. But 19th century science hadn't figured that out yet, and performers and audiences were scared away.
All of the Saxophones
The saxophone family is huge and extends far beyond the familiar lineup of soprano, alto, tenor and baritone. But when Belgian inventor Adolphe Sax started laying down his oh-so-saxy patents, the lineup consisted of 14 instruments. It slowly began to catch on and orchestral composers began to find uses for the new woodwind. Richard Struass's Symphonia Domestica, for instance, uses four saxophones: unusually pitched soprano, alto, baritone and bass. Earlier composers and arrangers were more liberal with their saxophone usage, but the fad wore off leaving us with the four we are most familiar with today. However, several other members of the family are still in production and there's no shortage of enthusiasts.
Double Bell Horn
Horn player Christine Chapman's one-of-a-kind instrument is one of the past, but also one born of modern times and perhaps suited for the future. A member of the contemporary music Ensemble Musikfabrik, Chapman had a French horn specially made that allows her to explore a wider range of colors and sounds. The main attraction is the addition of a second bell that can swivel to different angles and can operate with different mutes. The standard second bell is that of a bass trombone but can be configured to add any kind of bell, including one from a flugelhorn or another French horn. She's this instrument's pioneer — we have to wait and see if it will eventually catch on.
Have you come across any weird instruments? Share in the comments below.
More in:
James Bennett II is a staff writer for WQXR.
The WQXR e-newsletter. Show highlights, links to music news, on-demand concerts, events from The Greene Space and more.