6 US Political Campaigns Set to Classical Music
Wednesday, August 10, 2016 - 01:37 PM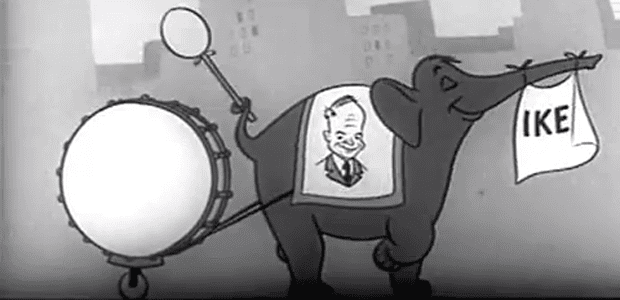 Since the days of George Washington, who campaigned with the ditty "God Save Great Washington" set to the tune of "God Save the Queen," American candidates have harnessed the power of music to stir the emotions of voters. As we head into the final months before the 2016 election, here are our favorite examples of classical music in political campaigns.
1. "I Like Ike"
Perhaps the catchiest political tune in the history of American elections, "I Like Ike" was penned by none other than the classic American songsmith Irving Berlin. It debuted in front of a 15,000 person audience at Madison Square Garden and helped the candidate march all the way to the White House (an ad animated by Disney Studios helped, too). Berlin would go on to write two more songs for Eisenhower's second run in 1956.
2. "Windsurfing"
In the midst of the 2004 election, the George W. Bush campaign capitalized on the perceived notion that John Kerry was a flip-flopper. This ad, set to Johann Strauss Jr.'s "The Blue Danube," shows the Democratic candidate twisting back and forth in the breeze.
3. "The First Civil Right"
Any fan of Hitchcock can attest to the power of music in movies. During the 1968 campaign, ads for soon-to-be President Richard M. Nixon were scored with eerie discordant compositions. In one of the most powerful spots, "The First Civil Right," a snare drum beats irregularly underneath a thorny piano riff, which one musicologist compared to the avant-garde style of Henry Cowell.
4. "Nessun Dorma"
In one of the few examples of the intersections between American politics and opera, Donald J. Trump until recently played the famous aria from Puccini's Turandot at his rallies. Unfortunately for him, he chose a version sung by the late Luciano Pavarotti, whose estate demanded that Trump cease using it.
5. "Trump Exposes Trump"
Luckily for this ad, Rossini's overture to The Thieving Magpie is in the public domain and not subject to rights approval, having been written in 1817. Though 200 years later, it still retains a good dose of mocking humor. 
6. "Fight Song"
Among the many celebrities to be featured in this Elizabeth Banks–produced anthem for Hillary Clinton's campaign are the operatically trained Kristen Chenowith (1:35) and soprano Renée Fleming (1:45). 
More in:
The WQXR e-newsletter. Show highlights, links to music news, on-demand concerts, events from The Greene Space and more.